Print Friendly Version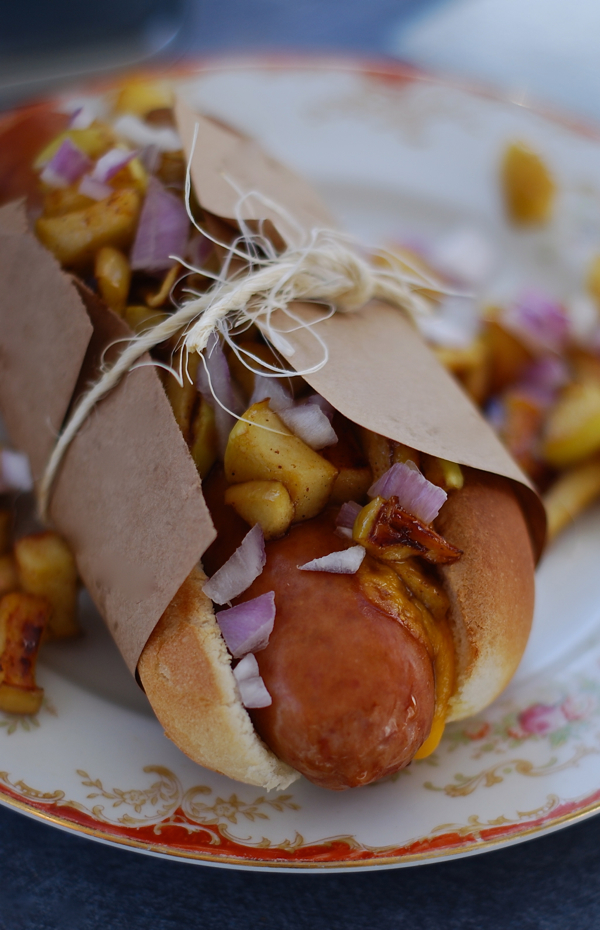 Christmas vacation begins today at around noon. I'm cleaning our cottage, freshening things up for the family gatherings and festivities to come. As soon as I got up this morning I could hear the icy wind whipping around outside. Without even checking the weather, it was easy to tell that it would be a fleece, slippers and fireplace kind of day. Piles of snow on the ground, and icicles hang in a sort of shimmery valance outside my kitchen windows. Nature's light catchers. Winter is most definitely here.
Here's a yummy little lunch idea for you to try over the holiday break. It's easy comfort food that the whole family will love. Use your favorite kind of kielbasa. I usually opt for the leaner "light" kielbasa. It's less greasy, and still full of flavor, but sometimes I go to the local butcher looking for the fully loaded stuff. Swedish potato sausage is a yummy choice for this dish too.
(serves 3)
preheat oven to 400 degrees F
1 ring, fully-cooked, ready to eat kielbasa
3 good quality hot dog or bratwurst buns
1 tart, crisp apple, unpeeled and coarse chopped
2 teaspoons butter
2 Tablespoons brown sugar
1/4 teaspoon cinnamon
thin slices of cheddar cheese
1/4 cup chopped purple onion
Dijon mustard
Place kielbasa in a skillet. Pour 1 inch of water in the bottom of the pan. Turn burner on medium-low and bring to simmer. Cover and turn flame to low. Cook for about 10 minutes, or until kielbasa is heated through. Meanwhile, heat the butter in a seperate skillet. When the pan is hot and the butter is melted, add the apple chunks. Saute until apple is tender and slightly browned. Add the brown sugar and cinnamon. Stir until the brown sugar melts and coats the apple chunks. Cover and remove from heat.
Cut kielbasa ring into 3 equal pieces. Blot with paper towel. Place on three separate buns. Place on a baking sheet. Top with the cheese and heat in oven just until cheese melts (about 3 minutes.)
Plate the kielbasa, top with the fried apples, chopped onion and Dijon mustard. Serve immediately. Yummy with a salad made of spring greens and a few sweet potato fries.
Enjoy!
~Melissa
You may enjoy these related posts: