Print Friendly Version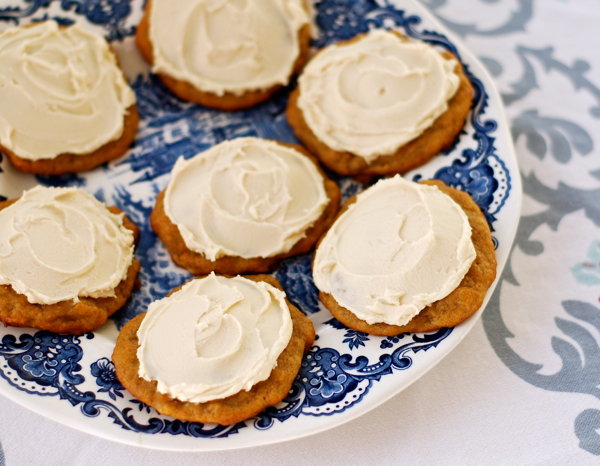 Another banana recipe? Mmmm hmmmm… and you're going to LOVE this one! These cookies are super soft, moist and buttery… and that frosting! Ohmygosh. Heaven!
for the cookies:
~ preheat oven to 350 degrees F. ~
3 ripe bananas, mashed
2 Tablespoons fresh lemon juice
1 teaspoon baking soda
6 Tablespoons butter, softened
1/4 cup brown sugar or coconut sugar
1 large egg, lightly beaten
1 teaspoon pure vanilla extract (I used bourbon vanilla)
1/3 cup all purpose flour
1/3 cup whole wheat flour
1 (3.4 oz.) packet instant vanilla pudding
1/2 teaspoon salt
Line two large baking sheets with cooking parchment, or use Silpat mats.
Mash bananas. Add lemon juice and baking soda. Mix well and set aside.
In a large bowl, cream the butter and sugar. Add egg and vanilla. Mix until evenly combined. Add banana mixture. Mix until just combined.
In another bowl, mix the flour, pudding powder and salt. Mix this dry mixture into the wet mixture. Stir until just combined.
Scoop 1 Tablespoon-sized cookie dough mounds onto prepared baking sheets, 2 inches apart. Bake one cookie sheet at a time for 10 to 15 minutes, or until set and golden around the edges. Remove from oven and allow to cool on the pan for 10 minutes prior to transferring cookies to a wire rack to cool completely.
Once all cookies are baked and cooled completely, you can frost them.
for the bourbon vanilla buttercream:
3/4 cup + 2 Tablespoons powdered sugar
2 Tablespoons + 2 teaspoons softened, salted butter
2 teaspoons bourbon vanilla (or 1 teaspoon vanilla + 1 teaspoon bourbon)
Mix until light and fluffy. Frost cookies. Double recipe if you like tons of frosting.
Enjoy!
~Melissa
You may enjoy these related posts: