Print Friendly Version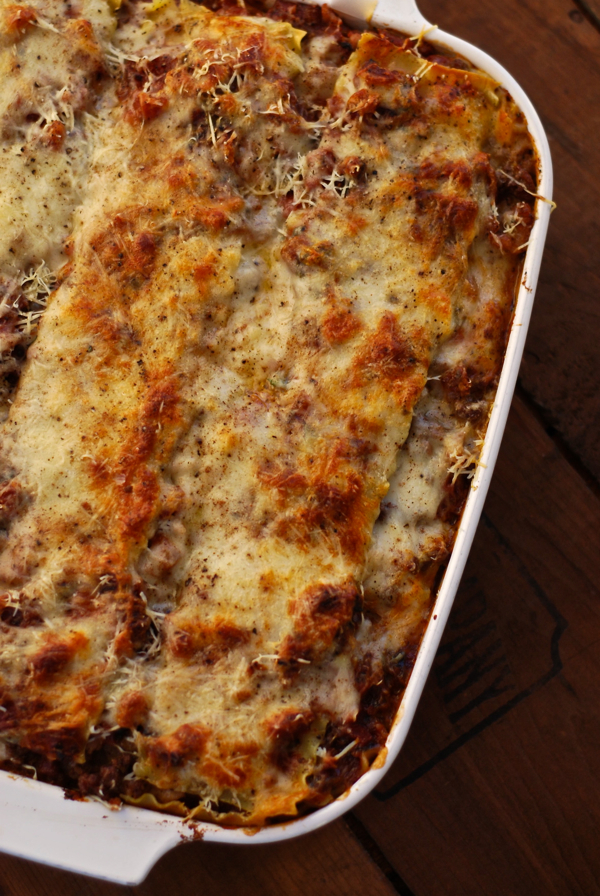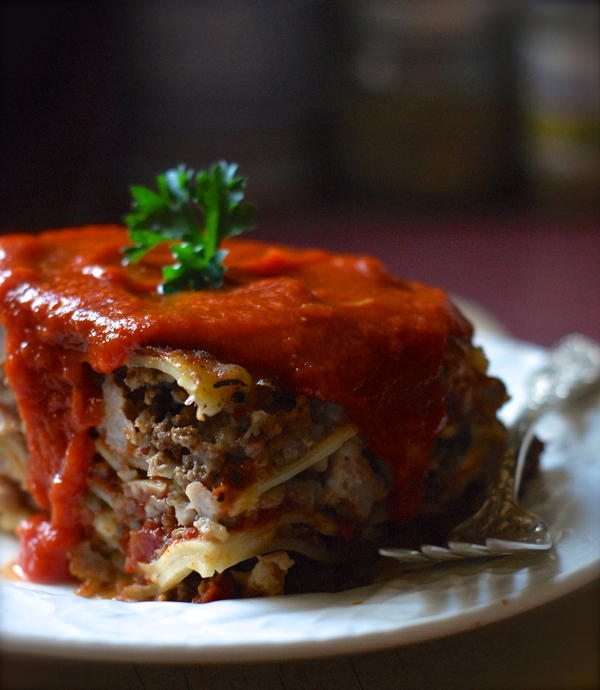 I spent the whole day with my daughter Andrea and my grand girl, Chloe. We had some of this mouthwatering lasagna for lunch, sipped Pinot Grigio, and watched THIS MOVIE (OMG…so wrong and so funny at the same time…) while the baby napped. I love days like these. Cold and snowy outside, warm and snug inside.
I can't believe I haven't shared a lasagna recipe with you before this. I make lasagna several different ways. One of the ways is sort of hippie style with multi grain pasta noodles, spinach, carrots and fresh mozzarella… another way is with tons of oven roasted garlic, fire-roasted red pepper, oven roasted tomatoes, and capers. In the spring and summer I like to make a "white" lasagna with ham, alfredo and baby asparagus. And, then there's this. This is the Meat Lover's lasagna. This weighs about 15 pounds by the time it goes into the oven. It's not for sissies. It's WAY better the next day, and will re-absorb the juices so it's wonderfully moist but not wet, so plan accordingly. It's got Chianti in it. You may acquire a "Godfather" accent by the time you're done creating and eating. Just a warning. If this sounds good, proceed… PS…before I get an influx of emails, no I didn't forget the mozzarella. Geez. 😉
~ preheat oven to 400 degrees F. ~
Generously oil a 9 x 13 glass baking dish with olive oil
16 oz. lasagna noodles, cooked according to package directions for "al dente" pasta
8 oz. fresh Parmigiano Reggiano cheese, grated
an extra jar of your favorite marinara sauce for topping
for the sauce:
1 large onion, chopped fine
3 Tablespoons extra virgin olive oil
8 large garlic cloves, minced
1 heaping cup fresh basil (approx 2 oz.) torn
2 (28 oz.) cans whole plum tomatoes in juice
1 (15 oz.) can petite diced tomatoes in juice
1 cup good quality chianti
3 teaspoons sea salt
2 Tablespoons balsamic
1 Tablespoon honey
3 Tablespoons dried oregano
2 teaspoons fresh thyme leaves
2 Tablespoons fennel seeds
1/4 cup butter
1 and 1/2 cups pork cube steak, chopped OR lean ground pork
1 lb. lean ground beef
for the bechamel:
10 Tablespoons real butter
2/3 cup all-purpose flour
4 cups buttermilk, warmed
sea salt and freshly ground black pepper (to taste)
1 teaspoon freshly grated nutmeg
To make the sauce: Heat the 3 Tablespoons butter in a large, heavy bottomed saucepan or Dutch oven. Saute the chopped onion in the butter until tender, translucent and slightly golden. Add the minced garlic and cook an extra minute, just until fragrant. Add torn basil, canned plum tomatoes (breaking them up as you go,) petite diced tomatoes, chianti, sea salt, balsamic, honey, oregano, thyme and fennel seeds. Bring this sauce mixture to a boil, and then reduce the heat to a gentle simmer. Cook, uncovered, for an hour. The sauce should be reduced and thick when it's done.
To prepare the meat: While the sauce is reducing, heat the 1/4 cup butter in a large skillet. (Make sure you use lean pork and beef so you don't have to drain it after cooking.) Add the pork and beef and cook until browned. Set aside.
To make the bechamel: Place the butter in a medium size saucepan to melt. Add the flour. Whisking constantly, cook for 3 to 4 minutes or until the butter-flour mixture is pale gold and fragrant. Slowly add the buttermilk, whisking constantly, until thickened. Remove from heat. Stir in salt, pepper and nutmeg. Cover and set aside.
Prepare the noodles according to package directions for "al dente" pasta. Spray a long length of waxed paper with non-stick cooking spray, or olive oil spray, and set in on your counter. Lay the lasagna noodles flat on the waxed paper so they don't stick together.
Spread a thin layer of the bechamel sauce in the bottom of the prepared baking dish. Then layer: noodles, tomato sauce, meat, Parmesan, bechamel. Repeat a few more times, ending with bechamel, and saving at least a cup of the Parmesan to top the whole lasagna. You will use all of the ingredients.
Place uncovered lasagna in preheated oven and cook 45 to 65 minutes, or until bubbling, completely hot all the way through and dark golden brown on top. Remove from oven, and allow to cool completely before covering and refrigerating. Eat this the next day. Trust me.
To serve: cut into generous portions, top each serving with extra marinara, and heat completely.
Enjoy!
~Melissa
You may enjoy these related posts: