Print Friendly Version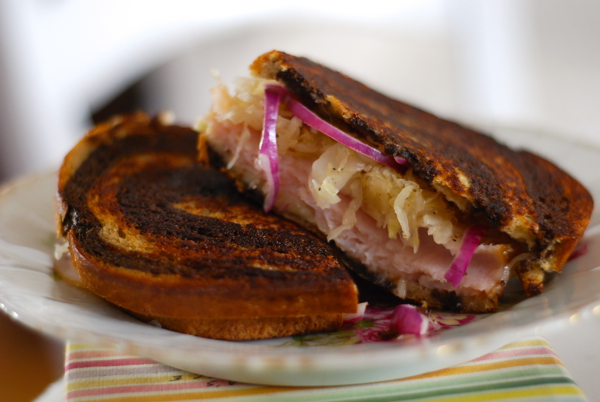 I took this photo today while watching Breaking Dawn Part 2 (again), and sipping my Whispering Pines Apple Cinnamon Oolong. I was sitting at the table I moved into the living room, right in front of the TV. I had the house to myself. When that happens I do what I want. I stay in my PJs until three in the afternoon, I don't do my hair, I eat frozen pizza for lunch, and I move furniture around. Sometimes I build forts. No, I don't. Well, maybe I do. Now you're wonderin', aren't ya? 😉 hee hee…I'll never tell.
Another thing I do is invent recipes. I still have the stuff to make Reubens, but I was more in the mood for a Rachel today. And not just any Rachel…a SASSY Rachel. She's sweet and a little spicy. How do you make a Sassy Rachel? Continue reading to find out…
for one sandwich:
2 slices marble rye, each slice well-buttered on one side
baby swiss cheese (one or two thin slices)
5 or 6 pieces thinly sliced, smoked turkey breast (deli lunch meat)
1/3 cup Polish style sauerkraut (squeezed dry)
2 teaspoons brown sugar
a light sprinkle of garlic salt
freshly ground black pepper to taste
thinly sliced purple onion
1/4 cup homemade thousand island  mixed with 1/4 teaspoon cayenne pepper (for dipping)
Heat skillet over low flame. Butter bread. On one slice of the bread (buttered side down) place the Swiss cheese, then the turkey breast, sauerkraut, brown sugar, garlic salt, pepper and onion. Top with the other slice of bread (buttered side out.)
Place sandwich in heated skillet, cheese side down. Lower heat so the bread browns slowly and the cheese gets a chance to melt, (about 3 minutes.) When cheese is starting to look melty, and bread is a deep golden brown, flip sandwich and press down gently with spatula. Cook an additional 3 minutes or-so…until the other slice of bread is golden brown. Remove to a cutting board. Cut in half. Serve immediately with the spicy thousand island.
Enjoy!
~Melissa
You may enjoy these related posts: