Print Friendly Version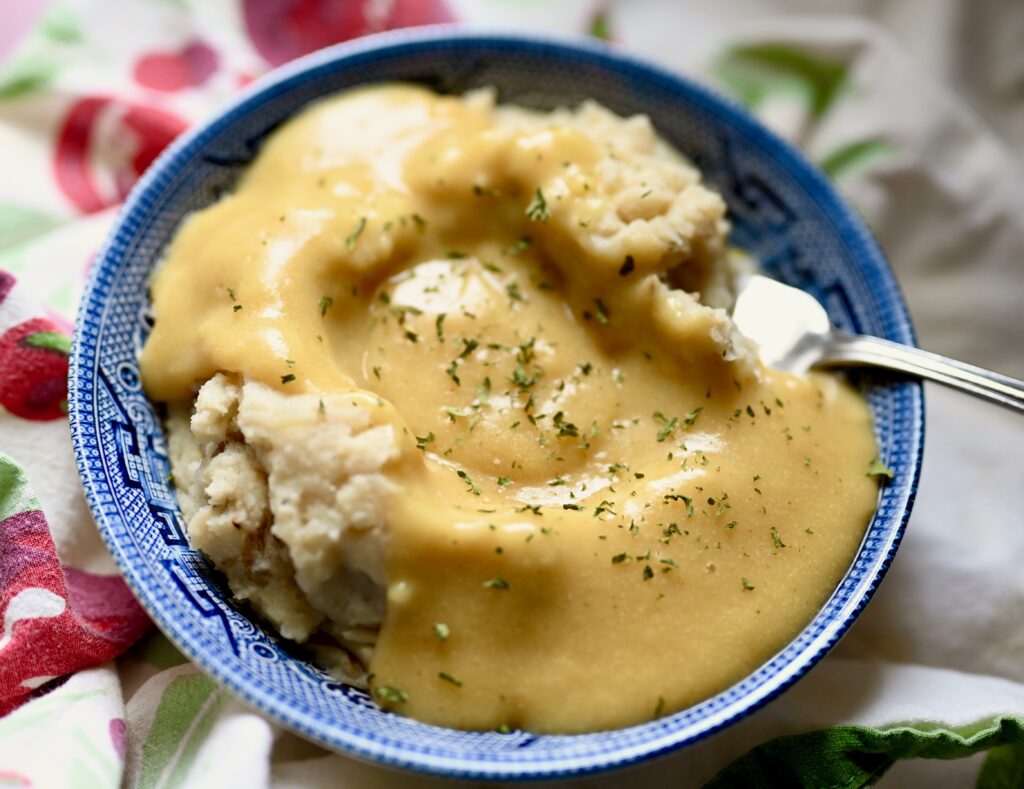 Hello Friends!
I just had to stop by and drop off this amazing, vegan gravy recipe. It's become somewhat of a problem in our house. My husband, who is not vegan, even loves it. He has made a habit of cooking up an enormous pile of air fryer French fries and using this gravy as a dipping sauce. And, of course we make a bunch whenever we make mashed potatoes. It's good drizzled over pierogi-stuffed pasta shells too!
Not only is this vegan gravy super delicious, it's ridiculously easy to prepare. You literally dump everything into a saucepan and whisk it over medium heat until smooth and thick.
I'll be cooking up a big batch of this vegan gravy for Easter, just like I did for Thanksgiving and Christmas. I double it so I have leftovers we can dip our vegan chicken sandwiches into. SO good!
4 cups veggie broth (I love Better Than Bouillon Vegan "No Chicken" Base)
1 teaspoon onion powder
1 teaspoon garlic powder
1/2 cup nutritional yeast
2 Tablespoons soy sauce (I use reduced sodium)
1 Tablespoon Dijon mustard
1/2 cup all purpose flour
1 teaspoon smoked paprika
a few grinds of fresh black pepper
Make up 4 cups of veggie broth according to directions on jar if you're using "Better Than Bouillon." Or, you could use already prepared stock or broth if you have some on hand.
Place all ingredients in a saucepan and whisk to combine. Place over medium heat and whisk constantly until gravy becomes smooth and thick. Remove from heat. Gravy will continue to thicken as it cools and will thin out again when reheated.
Enjoy!
~Melissa
You may enjoy these related posts: