Print Friendly Version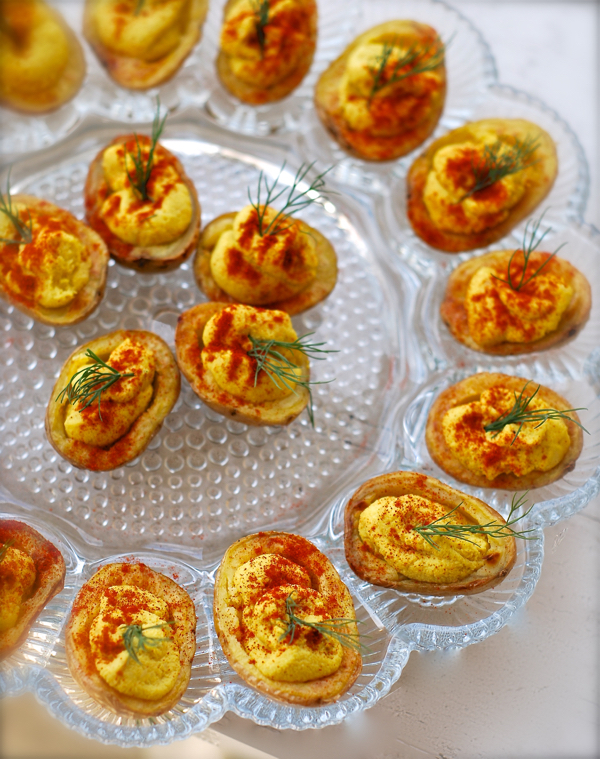 These little, stuffed, deviled, baby potatoes are so delicious they melt in your mouth. They're an amazing vegan alternative to, well, eggs. Besides being vegan, they're great for people who have a sensitivity or allergy to eggs. And I know I just made the vegans happy because now you have a reason to use your pretty, glass egg platters again! I know that realization made me happy! You're welcome.
These aren't difficult to make, just a little time consuming, so plan accordingly. Lately I like to listen to my latest Audible selection on the Amazon Echo while I cook. So relaxing and fun and it keeps my brain busy as I chop, boil, simmer, and whisk whatever recipe I'm making. Do you do this? Or do you listen to music? Let me know what you're listening to these days. I'd love to hear all about it, and it will be fun to get some more titles to add to my Audible queue.
Make sure you soak your cashews in advance so they're ready to go when you want to fill your deviled potatoes.
Note: For curried deviled potatoes, add 1/2 teaspoon sweet curry powder along with the turmeric in this recipe.
1 and 1/2 lb. small (egg-sized) Yukon Gold potatoes
1 T. light olive oil
1/2 cup raw cashews (soaked until soft, about 2 to 3 hours)
1 Tablespoons vegetable broth
1 Tablespoon yellow mustard
2 Tablespoons nutritional yeast
1/2 t. turmeric
2 T. dill pickle juice
1 teaspoon kala namak black sea salt (for an eggy flavor!)
2 Tablespoons sweet pickle relish
1 to 3 Tablespoons mayonnaise
freshly ground black pepper, to taste
smoked paprika and fresh dill sprigs (for garnish)
Preheat oven to 350 degrees F. Line a rimmed baking sheet with a Silpat mat or parchment paper. Cut potatoes in half and put them in a bowl. Toss them with the olive oil, and then put them cut-side-down on the baking sheet. Bake until tender (approximately 30 minutes.)
While the potatoes are baking, make your cashew cream. Mix the softened, soaked, well-drained cashews, vegetable broth, nutritional yeast, mustard, turmeric, and curry (if using) in the bowl of a blender until very smooth (approximately 3 to 5 minutes, depending on how strong your blender is.) Add a tiny bit more vegetable broth if the mixture seems a little too dry and won't mix correctly. Not too much though, you want the cashew cream to be thick.
When the potatoes are tender, remove from oven. When cool enough to handle, but still warm, scoop out centers using a melon baller, leaving a 1/4 inch "wall" of potato inside.
In a mixing bowl, mashed the scooped out potato insides until smooth. Add the cashew cream mixture, pickle juice, salt, pickle relish and mayonnaise to reach desired consistency. Mix until smooth. Add pepper to taste. Chill filling mixture for 30 minutes, and then scoop into potato shells, or use a cake decorating/frosting bag and tip if you want to be fancy. Cover and chill for at least one hour prior to serving. Garnish with the smoked paprika and dill sprigs.
Enjoy!
~ Melissa
You may enjoy these related posts: