Print Friendly Version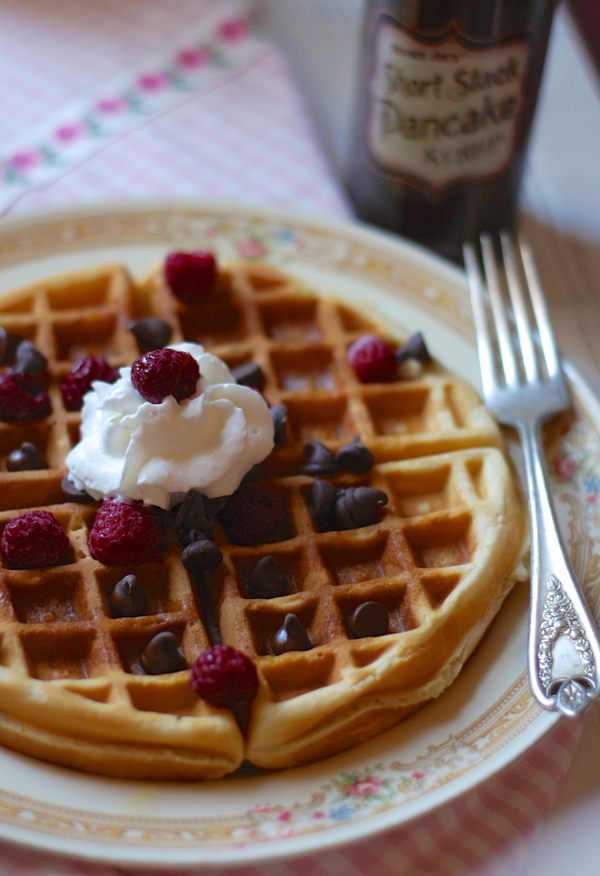 Yay! The weekend has arrived! We're headed to Caribou in a few minutes to get tea and do some reading and writing. Jeff made fried egg sammys for our breakfast which is always a yummy treat.
And speaking of yummy treats… Here's one for you. These waffles are awesome. I love the addition of malted milk powder in the batter. These are good with just butter and maple syrup, fruit and chocolate chips, a sprinkle of pecans OR as the base for a waffle sundae! Just place a scoop of your favorite ice cream between two of the waffle quarters and drizzle your favorite fruit compote or dessert syrup over the top.
2 cups all-purpose flour
2 Tablespoons sugar
1 Tablespoon baking powder
1/2 teaspoon sea salt
1 and 3/4 cups milk
6 Tablespoons vegetable oil or light olive oil
2 large eggs
1/4 cup malted milk powder
1 teaspoon pure vanilla extract
1/4 teaspoon nutmeg
butter and your favorite toppings
Mix everything (except the butter and toppings) in a large mixing bowl and whisk until everything is evenly incorporated and moist. The batter may be slightly lumpy. Allow to sit for 10 to 15 minutes before making waffles.
Heat your waffle iron according to manufacturer's directions. Pour about 1/2 cup of waffle batter onto hot waffle iron. Close and cook for approximately 3 minutes. (The temperature of waffles irons vary, so tweak cooking time as needed.)
Add your favorite toppings and serve.
Enjoy!
~Melissa
You may enjoy these related posts: