Print Friendly Version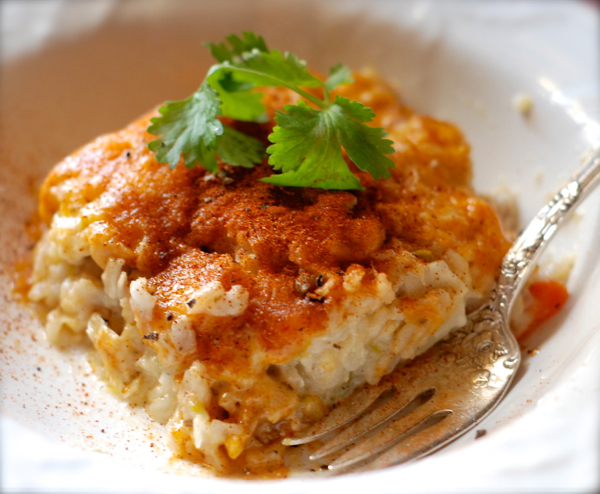 Are people always talking about weather where you live? I just realized, just this minute, that I start most of my posts by telling you what the weather is doing in Minnesota. I started to wonder if it's an a) Minnesota thing… b) an old person thing (because I am a grandma now so I qualify, even though I'm only 42)… or c) a universal thing. Do you laugh every time I tell you it's snowing and say "So WHAT? Get on with the recipe, for the love of Pete!" Well, do you? 😉
Okay. I'll just share my recipe and wait for you to answer me before I give you another precipitation report. No. Never mind. I can't promise that.
Here's an easy, inexpensive, fairly healthy dish that I make often. Lately I haven't wanted to leave the house (not because I'm agoraphobic, but because of a little thing called weather, that we're not talking about…) Anyhoo, I've been getting pretty darn creative as the ingredients in my cupboards dwindle…. But, this dish doesn't really require creativity. It calls for simple, every day stuff that you probably already have in your fridge and pantry. You can mix and match veggies and use what you have…substitute broccoli or bell pepper for the celery… leeks or shallots for the onion… You get the idea. I love it. I hope you do too.
~ preheat oven to 350 degrees F. ~
serves 8 to 10
1/4 cup real butter
1/4 cup flour
1 teaspoon seasoned salt
1 teaspoon freshly ground pepper
1 teaspoon dried Italian seasoning
2 cups milk
3 to 4 cups completely cooked, cubed chicken (rotisserie chicken is great for this)
2 Tablespoons olive oil (for sauteing veggies)
1 small onion, chopped fine
2 large carrots, chopped
1 large stalk celery, chopped fine
3 large cloves garlic, minced
3 cups brown rice (cooked according to package directions)
2 cups grated sharp cheddar cheese
chipotle powder or smoked paprika
hot sauce and/or soy sauce (optional)
Melt butter in a Dutch oven or large, heavy bottomed saucepan. Blend in flour and spices with a wire whisk, and stirring constantly, cook for 1 or 2 minutes until the flour is golden and fragrant. Gradually stir in the milk. Cook over medium heat, stirring constantly, until thickened. Remove from heat.
Saute the onion, carrots, celery and garlic in the olive oil until tender, set aside.
Mix the sauce, veggies, cooked chicken and cooked rice. Spread in an even layer in a 9 x 13 glass baking dish. Sprinkle the shredded cheese evenly over rice mixture. Sprinkle a little chipotle, smoked paprika (or even regular paprika) over the top. Bake, uncovered, for 30 to 45 minutes until cheese is melted and everything is hot and bubbly. Cut into 8 servings, plate and serve with hot sauce and/or soy sauce (if you wish.)
Enjoy!
~Melissa
You may enjoy these related posts: