Print Friendly Version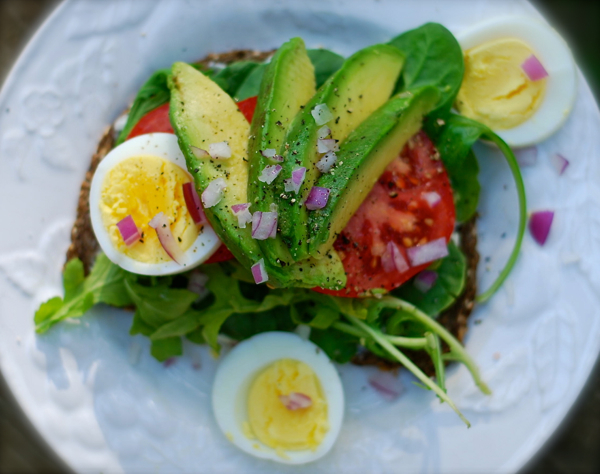 Are you ready to try one of my favorite summer sandwiches? The literal translation of smorrebrod means "butter and bread," and although most versions of smorrebrod start with buttered, dark rye bread, the sandwich combinations can vary greatly. Sometimes I top ours with cold pickled shrimp, leftover roast beef or smoked salmon, but this time I opted for all veggies (and sliced eggs) because our sandwiches were being served in lieu of salad prior to a bigger meal.
Some popular toppings include: sweet Dutch herring, thinly sliced cheese, thinly sliced cucumber, tomato, boiled eggs, liver pate, cured meat, smoked fish, pork, roast beef, bacon, mushrooms, pickles, red onion, real mayonnaise, asparagus spears, diced carrot, remoulade, and some type of fresh greens or slaw.
summer salad smorrebrod:
thinly sliced rye bread (we used Trader Joe's 100% Rye Bread)
real butter (no substitutes)
real mayonnaise (no substitutes)
baby spinach + arugula
light drizzle of balsamic vinegar
sliced, perfectly ripe, garden tomatoes
perfectly ripe, sliced avocado
boiled eggs, sliced
chopped red/purple onion
freshly ground coarse pink sea salt
freshly ground black pepper
Assemble sandwiches in order that ingredients are listed. Plate and serve.
Enjoy!
~Melissa
You may enjoy these related posts: