Print Friendly Version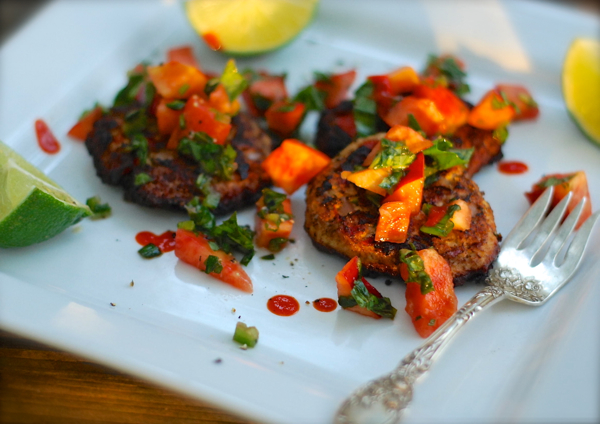 This time of year I'm always trying to figure out what to do with alllll of the zucchini. I always make some type of zucchini bread, and some type of stir fry, and usually fritters of some sort. This year I decided to up the protein in my fritters and add some lean ground turkey. You could add lean ground chicken or pork in place of the turkey if you wish. These turned out soooo good, and the salsa makes this dish oh-so-summery.
for the fritters:
~ serves 4 people as an appetizer or light dinner (4 fritters per person) ~
1 lb. lean ground turkey
1 tightly packed cup coarse grated zucchini, squeezed dry
1 red bell pepper, chopped
1/2 cup purple onion, chopped fine
2 large cloves garlic, minced
1/2 cup almond flour
1 large egg, lightly beaten
1 Tablespoon Dijon mustard
1 Tablespoon sriracha hot sauce
zest of one lime
1 teaspoon freshly ground black pepper
2 to 3 Tablespoons olive oil, for frying fritters
Place all ingredients, except for oil, in a large mixing bowl. Mix well using your hands. Form into 16 fritter patties. Heat oil in a heavy skillet. Working in batches of 4, fry fritters over medium high heat for 3 to 4 minutes per side. You'll want to adjust the heat so they cook all the way through without burning. Try not to move them around too much while they cook so they can form a golden crust on each side. Once cooked, transfer to a paper towel-lined platter. Top with nectarine basil salsa (recipe below) and serve.
for the nectarine basil salsa:
2 perfectly ripe nectarines, unpeeled, pitted and cut into chunks
a handful of fresh basil, chopped
1 jalapeno pepper, seeded and stem removed, chopped
juice of one large, juicy lime
sea salt and freshly ground black pepper to taste
chopped cilantro (optional)
1 or 2 chopped Roma tomatoes (optional)
Combine all salsa ingredients in a small mixing bowl. Stir to combine and serve over turkey zucchini fritters. If you have any leftover salsa, it's amazing on grilled chicken tacos!
Enjoy!
~Melissa
You may enjoy these related posts: