Print Friendly Version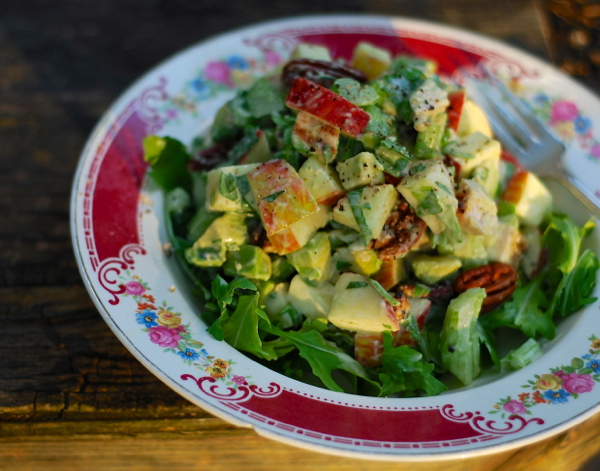 We've been thoroughly enjoying summer and all it has to offer. Beach days, lazy hammock naps, lots of reading, early morning bluff hikes, day trips, iced tropical green tea at the local coffee shop, dinners on the deck, tea on the front porch… the list goes on and on…
One of my favorite parts of summer is visiting the farmer's markets and getting fresh produce for salads, soups and oven roasted or grilled veggies.
Here's a favorite summer salad I think you'll enjoy. The avocado, pecans and chicken make it quite filling, so you could definitely serve this as a main course.
for 3 salads:
1 Tablespoon coconut oil
1 cup pecan halves
3 cups fresh arugula or baby spinach
3 Japanese Kiku apples, unpeeled, cored and chopped
1 cup chopped celery
3 medium sized boneless, skinless chicken breasts (grilled or baked and chilled)
3/4 cup real mayonnaise (I use organic, soy free)
juice of 1/2 large, juicy lemon
2 perfectly ripe avocadoes, peeled, pitted and chopped
sea salt and freshly ground pepper, to taste
Heat coconut oil in a medium skillet. Add pecan halves to skillet and stir constantly until golden and fragrant. Watch pecans closely so they don't burn. Set aside to cool.
Divide arugula between 3 shallow bowls (I like to use pasta bowls for this.)
Place cooled pecans, chopped apples, chopped celery, cooled-cooked-chopped chicken breast, mayonnaise and lemon juice in a large mixing bowl. Mix well. Gently fold in avocado chunks. Salt and pepper to taste. Divide this mixture between the 3 salad bowls.
Enjoy!
~Melissa
You may enjoy these related posts: