Print Friendly Version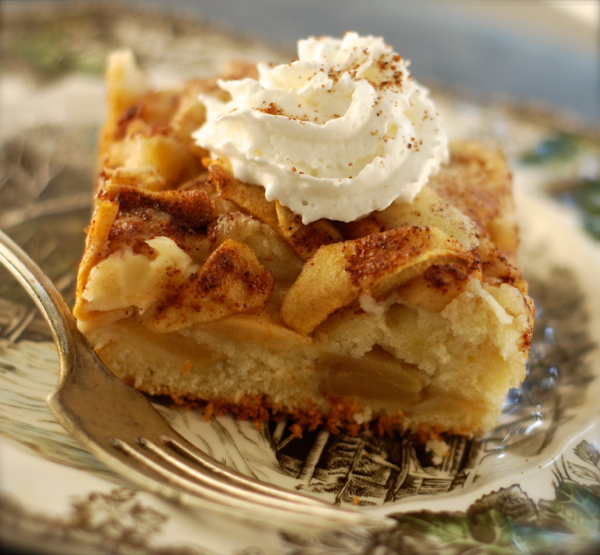 It's tea time and we're making a big Brown Betty pot of spiced cinnamon apple black tea and nibbling this delicious cake. It's light and elegant and reminds me a little of German kuchen. The perfect little treat for a beautiful autumn day. I made it with apples this time, but I'm planning on trying it with plums sometime soon. One of my readers said she uses pears. I can't wait to sample all of these different variations.
~ preheat oven to 350 degrees F. ~
2 and 1/3 cups AP flour
2 and 1/2 teaspoons baking powder
1 teaspoon salt
1 cup sugar, divided
1/2 cup butter (softened) + 3 Tablespoons (very cold)
3/4 cup milk
2 large eggs, slightly beaten
7 medium apples, peeled, cored and sliced very thin
1 teaspoon cinnamon
1/2 teaspoon nutmeg
1/4 teaspoon cloves
Butter a 9 x 13 glass cake pan. In a big bowl, mix the flour, baking powder, salt and 3/4 cup sugar. Add 1/2 cup softened butter, milk and eggs. Beat in a tabletop mixer, on medium speed,  for 4 minutes.
Evenly spread half of the batter into the prepared pan. Place half of the apples on top of the batter. Remove 1/2 cup of the remaining batter and set it aside. Smooth the rest of the remaining batter on top of the apples. (Don't worry if this second layer of batter doesn't reach the sides of the pan, just do your best to make it even.) Place the rest of the apples over this second layer of batter. Drop the rest of the batter (the reserved 1/2 cup) by spoonfuls over the top of the apples.
Using a fork, cut the spices and reserved 1/4 cup sugar into the very cold 3 Tablespoons of butter and sprinkle this spiced butter evenly over the top of the apples and batter.
Bake for 50-60 minutes or until a wooden skewer comes clean when inserted into the cake. Cool the cake completely in the pan. Top with vanilla ice cream or whipped cream.
Enjoy with your favorite coffee or tea!
XO,
~Melissa
You may enjoy these related posts: