Print Friendly Version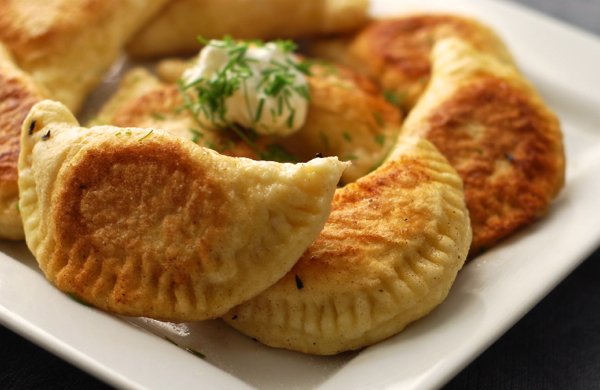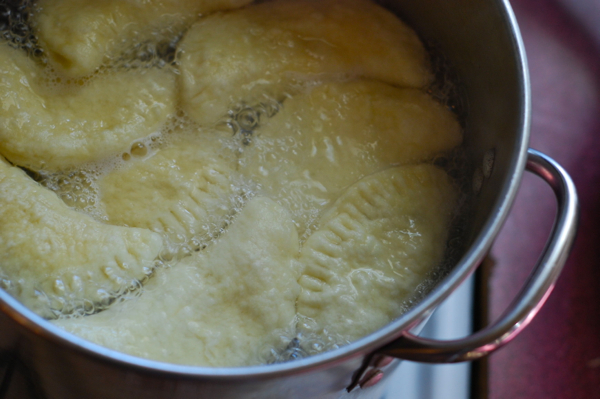 I'm working on a bunch of different recipe "collections" to share with you and hope to have the "Crock Pot" collection done some time this week. I already have part 2 started for that collection! So many great slow cooker recipes out there, so little time. 😉
I'm also working on collections for the following: soups/stews/chowders/bisques, salads, bread, apples, pumpkins, fresh herb, Amish, Italian and Polish recipes (just to name a few.) I know, that's already a lot. I think it will be fun to consolidate all of these into easy to navigate, searchable, reasonably priced "e-books."  Stay tuned…
So, yesterday I spent most of the day in the kitchen making up a BIG batch of Polish pierogi. I decided to start making Polish recipes because my husband is Polish. I'm Italian and I've been cooking a lot of different Italian meals since we were first married 18 years ago. I figured it would be fun to start cooking food that represents his heritage too, and I was right! I feel as though a whole new world has been opened up for me. So far I've made: bialys, babka, brown sugar kielbasa, apple and cheddar kielbasa, pierogi… and today I made a placzek cake (watch for that recipe, I'll be posting it soon.) Oh my. I think I'm in love! I have a whole list of other Polish recipes that I can't wait to make. What are some of your favorite recipes that represent your nationality or your spouse's/significant other's nationality?
Making these delicious little dumplings was kind of an adventure, and it took me awhile to get the hang of it. We had some with our dinner last night, some with breakfast, and I froze the rest so I can share them at a dinner party I'm hosting later this week. They reheat beautifully in a little toaster oven. Serve them with a dollop of sour cream and freshly snipped chives! YUM!
~Yield: approximately 24 Pierogi ~
for the potato filling:
3 Tablespoons butter
1/2 cup finely chopped onion
2 cups cold mashed potatoes
salt and white pepper to taste
Melt butter in a skillet over medium heat. Stir in the onion and saute until translucent. Stir this butter mixture into the cold mashed potatoes until evenly incorporated. Season to taste with the salt and white pepper. Set aside while you make the dough.
for the pierogi dough:
3 large eggs
8 oz. real sour cream (no substitutes)
3 cups AP flour
1/4 teaspoon salt
1 Tablespoon baking powder
Bring a big pot of water to a boil while you make the dough.
Beat eggs and sour cream, using a wire whisk, until smooth. Sift flour, salt and baking powder together. Add to the egg mixture and mix until dough comes together. Knead a few turns until smooth (about 1 minute.)
Roll the dough out to 1/8 inch thickness on a lightly floured surface. It's important to get it very thin. Cut into 3-inch rounds. Wet the edges of the rounds. Place a Tablespoon of the mashed potato filling in the center of each round and carefully fold the dough over to encase the filling. Gently press edges together and moosh them with a fork to create little tine marks.
Add 8 pierogi to the boiling water at a time. Boil for 3 minutes, flipping a few times. Remove the boiled pierogi to a plate. Some people like to eat the pierogi at this point. I think they're very good this way, with a little melted butter over the top and served with the sour cream and chives…. but, I think they're even better if you fry them too. So, if you'd like to prepare them and include the frying step, read on…
Once the pierogi are done boiling, remove them to a plate with a slotted spoon. Melt a couple Tablespoons of butter in a large, non-stick skillet until hot, and add 8 of the pierogi, tine mark side down first, into the skillet. Cook them for a couple minutes per side until golden and slightly puffed. Add new butter for each batch. It's okay if the butter browns, just don't have the heat up so high that it starts to smoke and burn. Having the skillet full (with the 8 pierogi at a time) will help regulate the temperature.
Remove pierogi to a platter and enjoy immediately, or at room temperature. I refrigerated some over night and they were wonderful reheated in the toaster oven (as I mentioned above)… or if you like them softer and chewier, just reheat them in the microwave.
Enjoy!
~Melissa
You may enjoy these related posts: