Print Friendly Version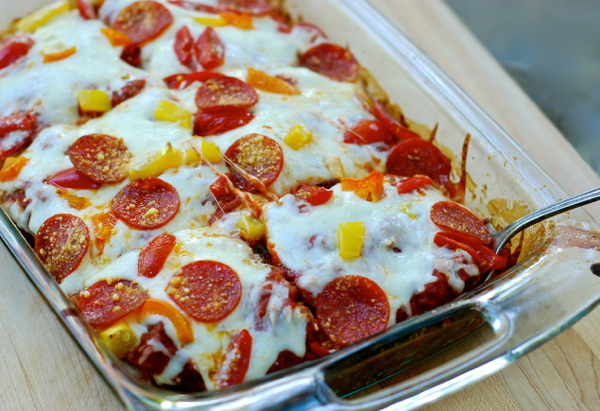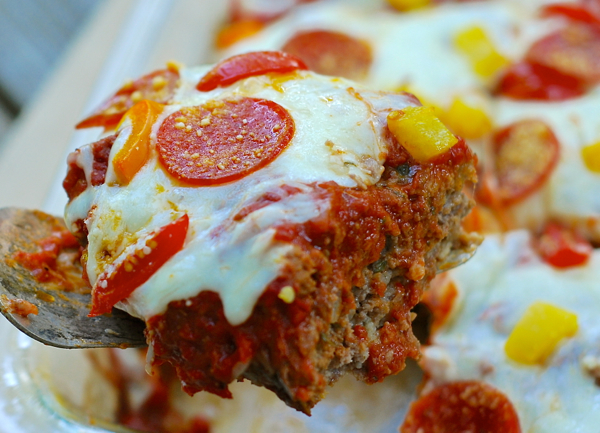 Last night I wanted to make meatloaf, but I also wanted to make something different. My family loves meatloaf, and I make it several different ways and never get any complaints. Unless I make extra for the purpose of enjoying a meatloaf sandwich the next day, there are never any leftovers either. I guess that's how you know you're doing it right.
Anyway, I looked up "pizza meatloaf" on google thinking I'd find some inspiration, and after a quick search I was surprised that I couldn't find one I wanted to make. I did find a couple but they were either too complicated to be a meatloaf recipe, or they called for strange ingredients. And, hello! Nobody put enough cheese on theirs. I fixed that.
So, I did what I almost always do, even when I can find a recipe I like… I made it up as I went along.
This is what I came up with.
OH. My. YUMMMMM!
Ready?
~ preheat oven to 350 degrees F. ~
2 Tablespoons olive oil
1 small onion, chopped fine
1 small, sweet bell pepper, chopped (divided)
3 large cloves garlic, minced
2 lb. lean ground beef
2 large eggs, lightly beaten
1 cup finely crumbled cracker crumbs
1/2 cup Parmesan cheese (grated, or powdered type)
2 Tablespoons fresh oregano, finely chopped (or 1 teaspoon dry)
2 Tablespoons fresh basil leaves, finely chopped (or 1 teaspoon dry)
1 to 1 and 1/2 cups pizza sauce OR spaghetti sauce
8 oz. shredded Mozzarella cheese
20 slices pepperoni
grape tomatoes, halved
Heat oil in a skillet over medium-high heat. Once hot, add onion and half of the bell pepper. Saute until soft, transparent, and slightly golden around edges. Add garlic and cook an additional minute, or until garlic is fragrant. Cool a bit.
Place sauteed veggies in a large mixing bowl, along with the ground beef, eggs, cracker crumbs, Parmesan cheese, oregano, and basil. Gently mix well, using your hands, just until everything is well incorporated. Don't over-mix or your meatloaf may become tough.
Pat meat mixture evenly into a glass, 9×13 cake pan. Bake, uncovered, in preheated oven for 35 minutes.
Remove from oven. Spread pizza sauce over the top. Sprinkle the Mozzarella over the pizza sauce. Top with the pepperoni, the rest of the bell pepper, and the tomatoes. (Or use your favorite toppings.) Return meatloaf to oven to bake and additional 15 minutes.
Cut into 6 pieces and serve! We love this with a simple salad of mixed greens and topped with Italian vinaigrette.
Enjoy!
~Melissa
You may enjoy these related posts: