Print Friendly Version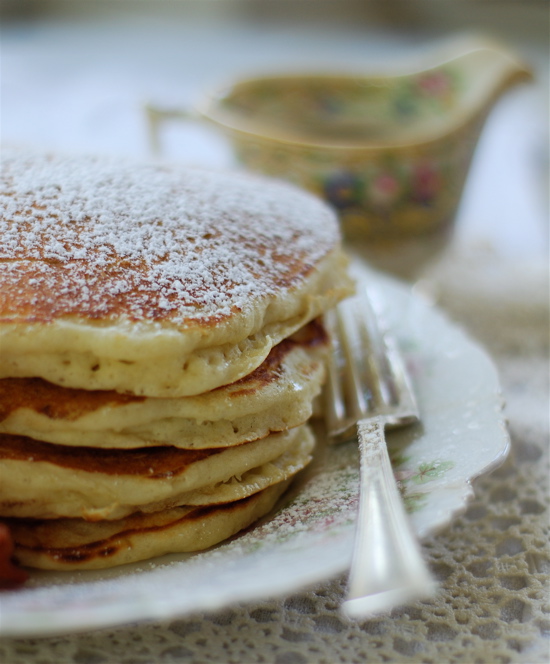 My friend Ann has been participating in an A to Z recipe challenge and asking her facebook peeps to share their recipes for the respective letter every day too. Yesterday was "V for Vanilla" and I was SO surprised that I hardly have any posts on my blog featuring vanilla. I shared my recipe for one of our favorite spicy summer beverages, Horchata, which showcases Mexican vanilla … and I shared my sister Robin's recipe for Luna salad which is topped with these dreamy vanilla candied almonds. But other than that…I really couldn't think of any other recipes I could share. What is your favorite recipe featuring vanilla?
This morning my daughter Gracie asked if we could have pancakes for breakfast…and I thought, "Why not add a few teaspoons of vanilla to my favorite buttermilk pancake recipe?" Well, let me just tell you…it revolutionized these pancakes. Light and fluffy and scented with delicious vanilla. mmmmmm…. sooooo good!
3 cups all-purpose flour
3 Tablespoons white sugar
3 teaspoons baking powder
1 and 1/2 teaspoons baking soda
1 scant teaspoon salt
3 cups buttermilk
3 large eggs
1/3 cup melted butter
3 teaspoons pure vanilla extract
Mix wet and dry ingredients separately. Heat griddle to medium-high. When the griddle is the right temperature, combine the wet and dry ingredients together just until evenly incorporated. I use a 1/2 cup measuring cup to measure my pancake batter. Pour into griddle. Cook until golden brown on both sides. Serve with butter, powdered sugar and hot, pure maple syrup!
Enjoy!
~Melissa
You may enjoy these related posts: