Print Friendly Version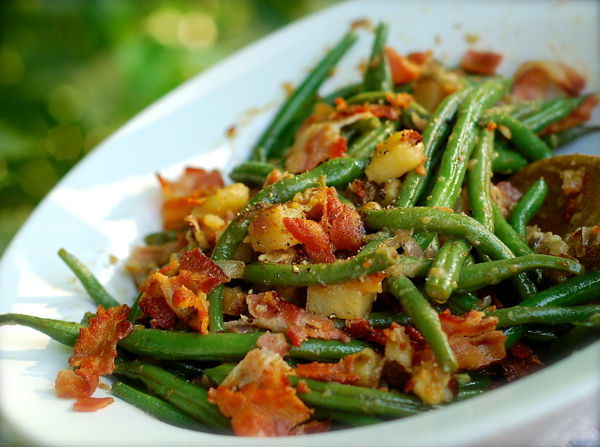 We're always looking for tasty side dishes to go with grilled fare in the summer. Something to go with the potato salad or macaroni salad. Southern green beans and potatoes with bacon is always a good choice. It's a great way to enjoy garden green beans, and the potato-bacon combination is reminiscent of German potato salad. So good! We always put extra bacon in ours because YUM.
8 to 10 slices bacon, fried and torn into big pieces
3 Tablespoons unsalted butter + 3 Tablespoons bacon drippings
1 medium red onion, chopped
2 lb. fresh green beans, ends trimmed
4 medium potatoes, unpeeled and diced
2 to 3 large cloves garlic, minced or chopped fine
1/4 cup chicken or beef broth
2 Tablespoons white vinegar
freshly ground black pepper, to taste
Wash green beans and potatoes well. Trim beans. Leave potatoes unpeeled and dice them into 1/2 inch cubes.
In a large, heavy skillet, brown bacon until crispy. Remove from grease and set aside on paper towels to drain. Remove all but 3 Tablespoons of the bacon drippings from the pan and add 3 Tablespoons butter. Heat over medium-high until butter is melted and hot. Add onion. Cook for 5 minutes until tender and translucent, stirring frequently. Stir in the potatoes, garlic and broth. Boil gently and cover. Cook for 5 minutes. Add beans. Stir. Cover and cook an additional 5 minutes or until beans and potatoes are firm-tender. Once done, remove from heat and transfer to a large bowl. Add the bacon, vinegar, and pepper. Toss gently to combine, and serve immediately.
Enjoy!
~Melissa
You may enjoy these related posts: