Print Friendly Version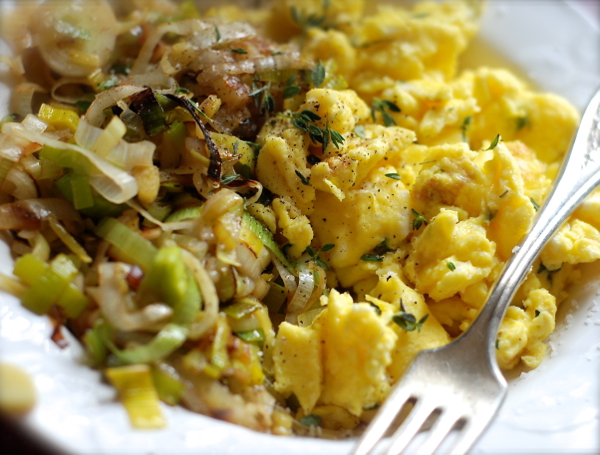 I'm so excited to be spending the weekend with my BFF Jana. Lots relaxing and knitting planned. I'll be heading out the door in about an hour, but I just had to stop by and share this delicious recipe with you. This is a wonderful, healthy breakfast dish for any day of the week. We like it piled on buttery, rustic sour dough toast and with big mugs of English Breakfast tea.
2 Tablespoons butter
1 Tablespoon extra virgin olive oil
3 leeks (white and pale green parts only) thinly sliced
sea salt and freshly ground black pepper
1 Tablespoon fresh thyme leaves
5 large eggs at room temperature
2 Tablespoons half & half
Heat the butter in a large skillet. Saute the leeks over medium-high heat, tossing with the butter. Stir frequently, watching so the leeks don't burn, and cook for about 10 minutes. Season with the thyme, salt and pepper. Toss to combine. Remove from heat, cover and set aside.
Whisk eggs with a little salt, pepper and the half and half. Heat the oil in the skillet over a medium flame. Pour eggs in the heated skillet and scramble until the eggs are done to your liking.
Serve the eggs alongside the leeks in bowls or on plates. Sprinkle a little more thyme on top and serve with toast and tea if you like.
Enjoy!
~Melissa
You may enjoy these related posts: