Print Friendly Version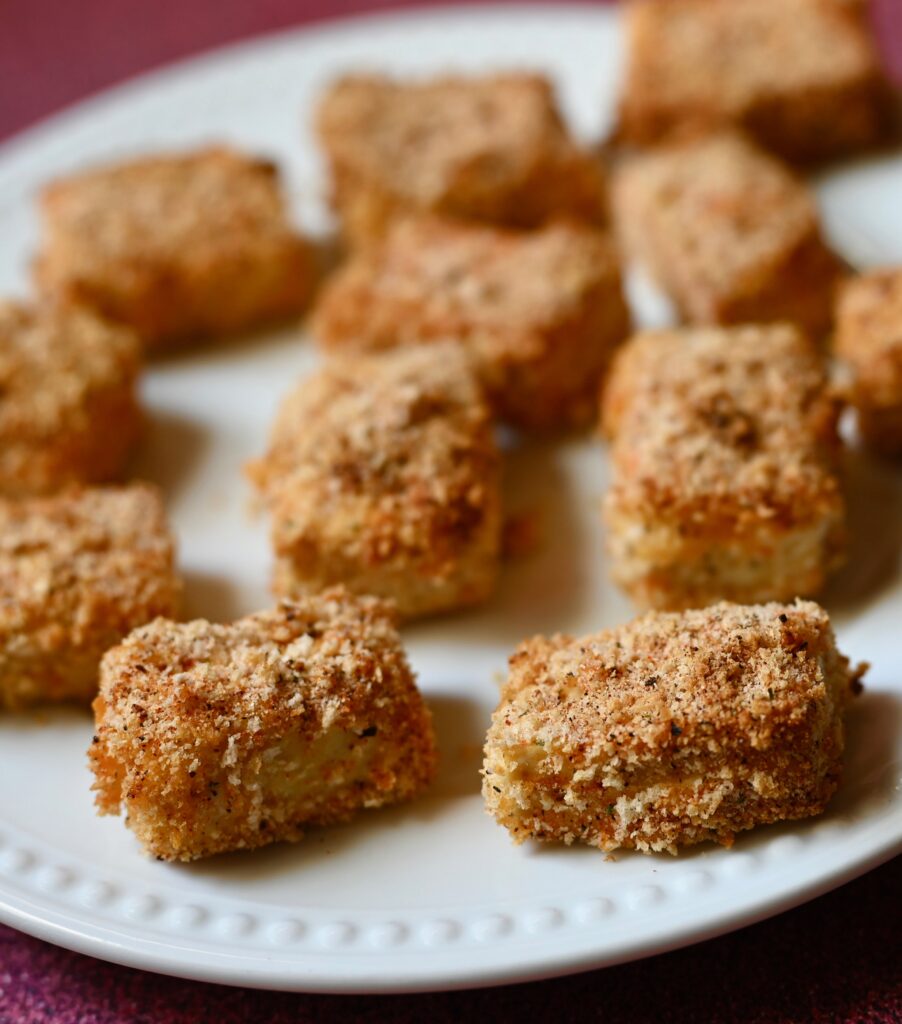 Any other tofu fanatics out there? Oh my gosh, I freaking love the stuff. It's so incredibly versatile and comes in many different forms. It's a super clean, lean, delicious, vegan protein! I love extra firm tofu for mimicking eggs in this tofu benny, and this delicious breakfast sandwich. Firm to medium firm tofu is good in a tofu scramble and slathered with ketchup, or on this amazing pizza. Silken tofu is a fantastic way to make smoothies super creamy and high in protein, and makes chocolate cream pie silky and decadent. Super Firm tofu (the kind that hardly has any water in the packaging and only needs to be patted dry before using) makes an absolutely stellar "feta" cheese fakeout for my Greek Potato Salad.
Recently I've been making extra firm tofu or super firm tofu for my California salad, and sometimes just as air fryer "nuggets" for a quick lunch.
The measurements aren't really important here. Just make as much as you want. The only thing to be careful of is overcrowding the nuggets in the air fryer. Just put them in a single layer in the fry basket and make sure they're not touching. The rest is easy peasy.
You can use whatever seasonings you like to flavor the panko. Here's how I do it…
1/2 block super firm tofu, patted dry
1 to 2 Tablespoons vegan mayonnaise
1 cup Panko bread crumbs
1 Tablespoon nutritional yeast
1 teaspoon smoked paprika
1 teaspoon onion powder
1/2 teaspoon garlic powder
salt and pepper
Place the panko crumbs, nutritional yeast, and all the seasonings in a wide, shallow bowl. Mix well. Place the mayonnaise in another bowl.
Cut tofu into nugget-sized cubes. Toss with the mayonnaise until coated, and then dredge in the seasoned bread crumbs until well coated. Press to adhere well.
Place in air fryer basket and cook at 375 degrees F. until golden. I start with 3 minutes and then check them. Once golden, carefully flip and cook an additional minute or so. You want them evenly browned and hot all the way through. Careful not to burn them.
Once done, plate and serve with your favorite dipping sauces! I love this delicious vegan ranch dressing, homemade, smoky BBQ sauce, maple Dijon, and Benihana Ginger Dressing. So good!
Enjoy!
~Melissa
You may enjoy these related posts: