Print Friendly Version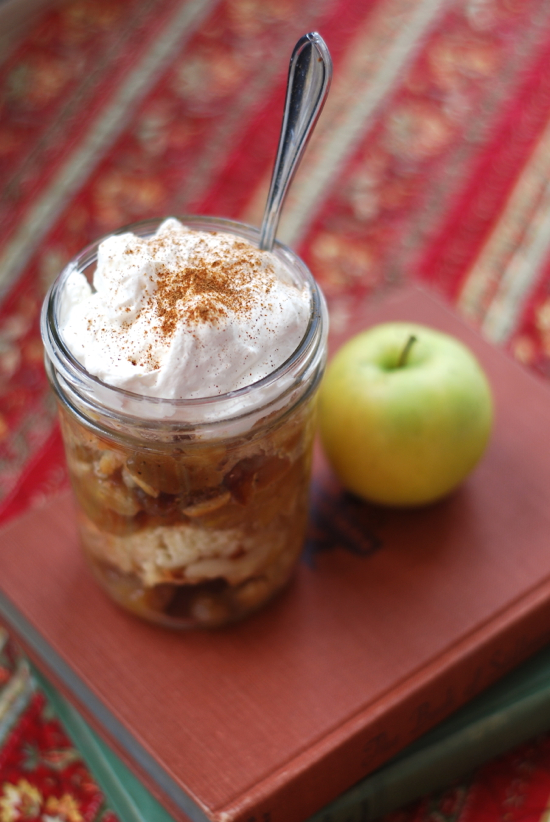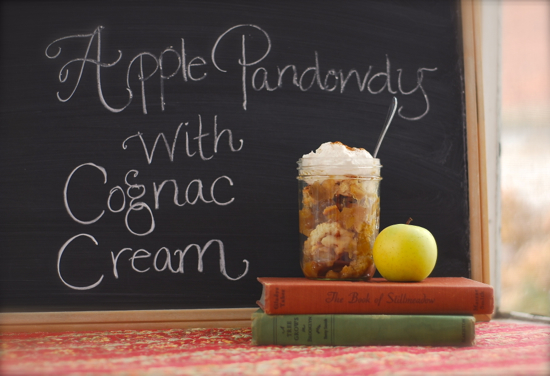 What could be more quintessentially autumn than the classic Apple Pandowdy? The name alone makes me think of farm kitchens, old school houses, red barns, changing leaves and pretty ladies cooking for their families wearing aprons made of floral, flour sack fabric and feeding a nearby stone fireplace with pine logs. This is classic, simple, delicious Midwestern fare. With love from my kitchen to yours.
2 cups brown sugar
3 to 4 cups all-purpose flour (divided)
1 teaspoon salt (divided)
2 cups water
2 teaspoons apple cider vinegar
1 Tablespoon baking powder
10 Tablespoons butter (divided)
1 to 1 and 1/2 cups milk (just enough to create biscuit dough)
8 to 10 cups apples, peeled and sliced
2 teaspoons cinnamon
1 teaspoon nutmeg
2 teaspoons pure vanilla extract
1/2 pint whipping cream
1 and 1/4 oz. cognac
In a saucepan, combine the brown sugar, 1/2 cup of the flour, 1/2 teaspoon of the salt, 2 cups of water and 2 teaspoons apple cider vinegar. Cook on low, stirring with a wire whisk, until thick. Set aside.
In a mixing bowl, combine 3 cups of flour, 1/2 teaspoon salt,  5 Tablespoons butter and enough of the milk to create a drop biscuit dough. (adjust flour-milk ratio as needed) Combine until just moist. Set aside.
Arrange apple slices in a 9 x 13, glass baking dish. Sprinkle the cinnamon, nutmeg, vanilla into the sauce. Melt the remaining butter and add that to the sauce too. Pour sauce over apple mixture. Drop dough by spoonfuls over sauce. Bake at 350 degrees F for 40 to 55 minutes or until top is golden brown and apples are bubbling and tender.
Using an electric mixer, whip the whipping cream and cognac until stiff peaks form. Spoon the pandowdy into serving dishes and top with the cognac cream. Garnish with a sprinkle of cinnamon or nutmeg.
Enjoy!
~Melissa
You may enjoy these related posts: