Print Friendly Version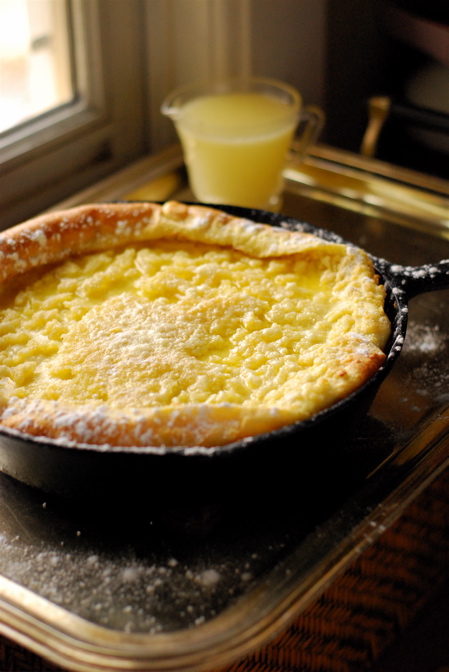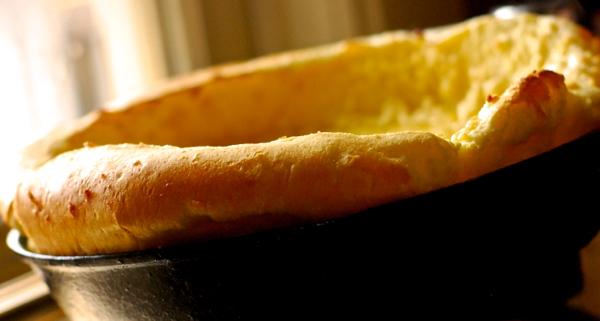 ~ dutch baby ~
All happiness depends on a leisurely breakfast.  ~John Gunther
I started making this puffy breakfast pancake when Jeff and I were first married. The perfect weekend indulgence for your family, or for a fancy company brunch. Don't use an electric mixer for this as the ingredients can be over mixed too easily, causing the pancake to become tough. Hand mixing is best for this recipe.
One of our favorite breakfast treats! A puffed Dutch pancake with lemon syrup!
for the dutch baby:
1/2 cup butter
6 large eggs
1 and 1/2 cups milk
1 and 1/2 cups all-purpose flour
for the lemon syrup:
juice of two lemons
powdered sugar
Place butter in a cast iron skillet or glass pie plate and set in a preheated 425 degree oven. In a large mixing bowl, lightly beat eggs with a wire whisk. Add milk and flour. Mix with a wire whisk until large clumps disappear and the batter is fairly smooth. Don't over-mix or your Dutch Baby will be tough.
Carefully remove pan from oven and pour batter into the hot, melted butter. Return pan to oven and bake until well browned and puffed on the edges, 20 to 25 minutes, depending on pan size. Cut into wedges and serve with the lemon syrup! Fresh berries are a wonderful addition to this romantic breakfast dish.
To make the syrup ~ juice the lemons, discard seeds and add powdered sugar, a Tablespoon at a time until the syrup tastes sweet enough to you. Mix with a wire whisk.
Enjoy!
~Melissa
You may enjoy these related posts: