Print Friendly Version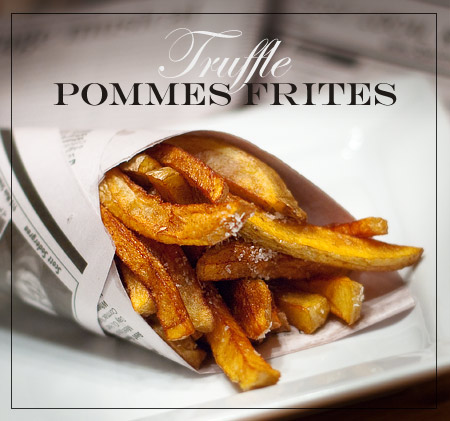 ~Truffle Pommes Frites~
Have you fallen in love with truffles and truffle oil yet? If not, these salty little bits of potatoey goodness should do the trick!
You'll need:
6 large russet potatoes, skins on
1 quart peanut oil
coarse kosher or sea salt
black or white truffle oil
Cut potatoes into strips the length and width of your index finger. Preheat a deep, heavy pot of oil (or a deep fryer) to 325 degrees F.
First Fry:
Deep fry potato strips in small batches, 5 to 6 minutes, or until just lightly golden. Using a slotted spoon, remove and allow to cool to room temperature.
Second Fry:
Deep fry for 2 minutes more at 400 degrees, until crispy and deep golden brown. Remove to a colander. Gently toss and salt while hot.
Serve in newsprint cones placed in a clear, lowball glasses. Using an eye-dropper, drizzle with black or white truffle oil to taste.
Enjoy!
~Melissa
You may enjoy these related posts: