Print Friendly Version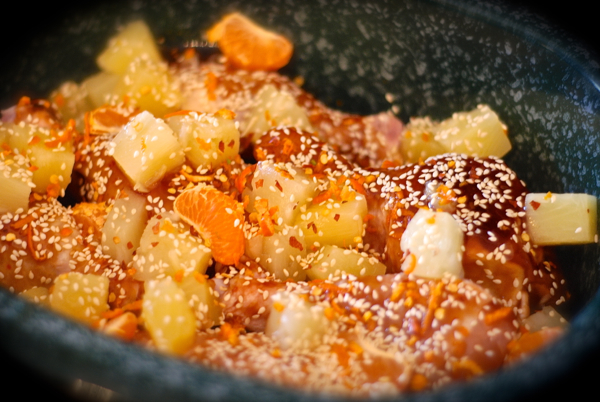 The crock pot has been getting a workout these last couple weeks. I love the ease of this little appliance. I have a couple slow cooker books that I just love, but mostly I just wing it and everything usually turns out great.
I dreamed this up a couple days ago, and it really did turn out yummy. You can just put everything in the crock pot on low, and let it go for 8 to 10 hours and serve it…but a little tweaking at the end really does turn this from good to wonderful. Totally up to you though 🙂
12 to 18 large chicken drummies, fresh or frozen
1 bottle LaChoy Teriyaki Sauce/Marinade
1/4 cup dry white or red wine
20 oz. can pineapple chunks, drained
1/2 large sweet bell pepper, coarse chopped (any color)
zest of one clementine plus the fruit
2 Tablespoons toasted sesame seeds
1 Tablespoon dark sesame oil
1 Tablespoon dried onion flakes
2 teaspoons sea salt
1 teaspoon freshly ground black pepper
1 teaspoon powdered ginger
1 teaspoon garlic powder
1/4 cup brown sugar
2 Tablespoons cornstarch mixed with 2 Tablespoons water until smooth
1 Tablespoon Sriracha hot sauce (or your favorite)
toasted coconut for garnish (optional)
chopped cilantro fro garnish (optional)
noodles or rice
Place drummies in a large crock pot. Add the rest of the ingredients except for the brown sugar, corn starch mixture, Sriracha, toasted coconut, cilantro, noodles/rice. Cover crock pot with lid. Turn on low and cook for 8 to 10 hours. Prepare rice or noodles and set aside until ready to eat. When chicken is completely done and you're ready to eat, remove chicken to a platter and cover with heavy duty foil to keep warm while you finish the sauce.
Add the brown sugar and corn starch mixture to the sauce in the crock pot and turn on high. Cover and wait for the sauce to bubble (or transfer sauce to a pot on the stove and bring to a gentle boil.) Stir, using a wire whisk, until the sauce is thickened to your liking. Place chicken drummies on bed of rice or noodles, top with sauce, a little Sriracha, a sprinkle of toasted coconut, and a little fresh cilantro.
Enjoy!
~Melissa
You may enjoy these related posts: