Print Friendly Version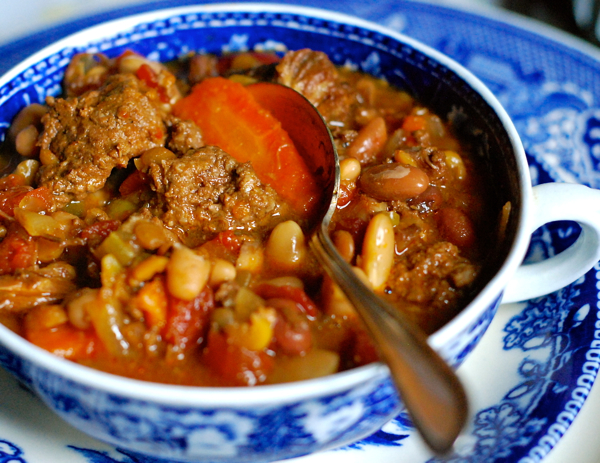 We're enjoying how the warm balmy days are becoming more frequent, and the cold, icy days are losing their grip. Minnesota has the strangest weather. You just never know when you'll be able to wear shorts outside, or if you'll have to dig out your sweaters again.
Here's a recipe that will work in both conditions. It's soup, so it's awesome for cold days when you need something cozy… and you make it in the Crock Pot, so if it suddenly warms up outside, it won't heat up your kitchen. The best of both worlds, really. Give it a try!
This is a wonderfully smoky, hearty soup. Feel free to use any meat in place of the hamburger… you can even use cooked chicken, just add it at the end so it doesn't overcook. Top it with little bits of fried, crispy bacon for extra smoky goodness.
Note: This makes a ton of soup so you can freeze a bunch or share it with your neighbor. 🙂
20 oz. package of 15 bean soup mix
2 lb. lean hamburger (or other meat)
8 cups beef stock
20 oz. can petite diced tomatoes, undrained
1 large onion, chopped
1 cup celery, chopped
2 to 3 large cloves garlic, minced
2 cups carrots, sliced (or more, if you really like carrots like I do)
1 cup of your favorite smoky, sweet BBQ sauce
Rinse and sort beans. Drain. Place in a large pot and cover with water. Place in refrigerator overnight.
The next morning, drain beans and place them in a 7 to 8 quart slow cooker. Brown your hamburger so it's only half pink and add that to the slow cooker along with the stock, tomatoes, vegetables, and BBQ sauce. Stir. Cover, and cook on LOW for 10 hours or until beans are tender but not mushy. Serve with a little more BBQ sauce drizzled over the top and buttered garlic bread.
Enjoy!
~Melissa
You may enjoy these related posts: