Print Friendly Version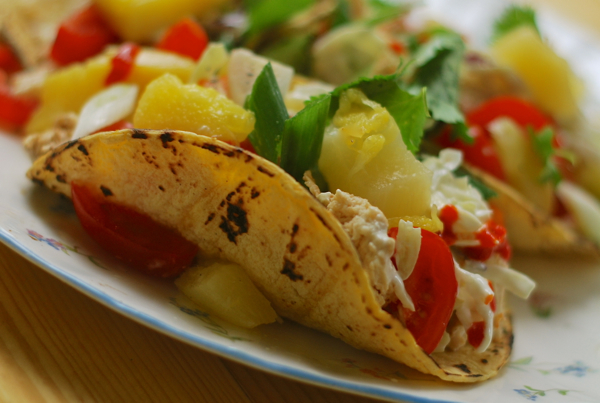 Yum! You are going to love this new taco recipe I created featuring fresh pineapple and pineapple cream cheese. Savory, sweet, creamy and delicious!
for 6 creamy pineapple chicken tacos:
6 soft corn tortillas
1 and 1/2 cups warm, grilled chicken breast or thighs, shredded
6 to 8 Tablespoons pineapple cream cheese spread (I used Kraft Philadelphia brand)
2 cups shredded cabbage
2 to 3 Tablespoons real mayonnaise
2 to 3 Tablespoons plain greek yogurt
1 to 2 Tablespoons pineapple juice
2 green onions + green tops, sliced thin
12 grape tomatoes, quartered
1/2 cup to 1 cup fresh pineapple chunks
1 small handful fresh cilantro, chopped
hot sauce
sea salt and freshly ground black pepper, to taste
Toast corn tortillas over the open flame on your gas stove top burner, flipping frequently until lightly toasted around the edges and soft. Keep flame on low while toasting tortillas or they'll burn.
Combine shredded cabbage, mayonnaise, yogurt and enough pineapple juice to create a creamy dressing. Mix well.
Spread equal amounts of the pineapple cream cheese on each of the toasted tortillas. Top with chicken, slaw, green onion, tomato, pineapple, cilantro, hot sauce, salt and pepper.
Serve immediately.
Enjoy!
~Melissa
You may enjoy these related posts: