Print Friendly Version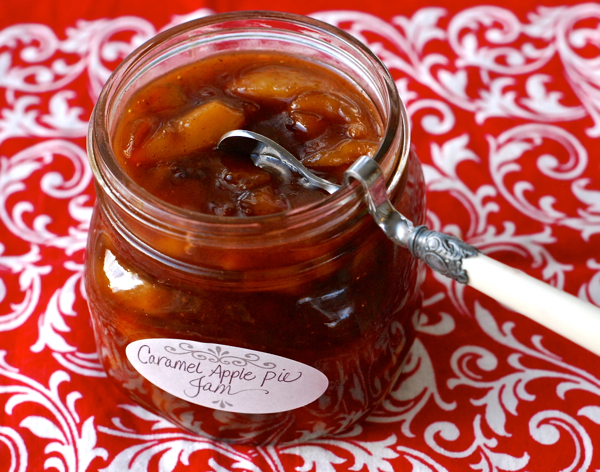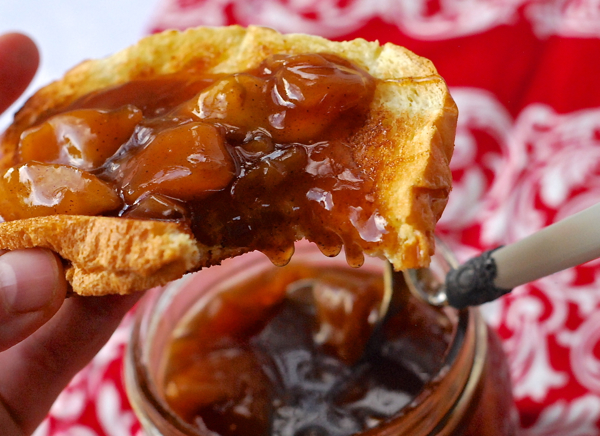 Okay, be honest. When you read the title of this post you did a double take, right? Well, I know I did when I first saw a recipe with the same title floating around on Facebook. I was like, "Wha? No way! That sounds awesome!" Then I thought maybe I could make it easy on myself and find the same jam recipe modified for the slow cooker. I looked… and I looked… and there was none to be found. So, I decided to create one. Then I looked in my cupboard and discovered I had no pectin. Hmmmmm, what to do? I totally winged it and used quick cooking tapioca instead, and what emerged from the Crock Pot was a jam miracle, I tell ya! This stuff is pure ambrosia. Once I tasted it I couldn't leave the stuff alone. I made a piece of brioche toast for tea time, slathered it with butter, and this ridiculously amazing jam. I'm not ashamed to admit that I inhaled it. You're going to love it. Start with an 8 quart slow cooker at least half full of peeled, cored and pared apples (approximately 20 medium ones.) When the jam is done, it will thicken considerably upon cooling. If it gets a little too thick for your taste, simply thin it out with a bit more apple cider.
Apple pie enthusiasts, prepare to make yummy noises!
20 to 30 medium tart-sweet orchard apples (peeled, cored and pared)
1/2 cup tart apple cider
2 cups sugar
1/4 cup molasses
1/4 cup salted butter, cut into chunks
1/4 cup quick cooking tapioca
2 teaspoons cinnamon
2 teaspoons apple pie spice
1/4 teaspoon salt
Place all ingredients in the crock of your slow cooker. Mix well so apple slices are coated well and everything is incorporated evenly. Cover slow cooker and cook on the HIGH setting for 4 hours, or just until apples are very tender and jam is thickened. Can as you would any fruit, or just place the jam in jars with tight fitting lids and store in your refrigerator for up to 10 days. Freeze whatever you don't eat or give away within that time.
Enjoy on toast, pancakes, waffles, grilled cheese sandwiches or as a pie filling!
~Melissa
You may enjoy these related posts: