Print Friendly Version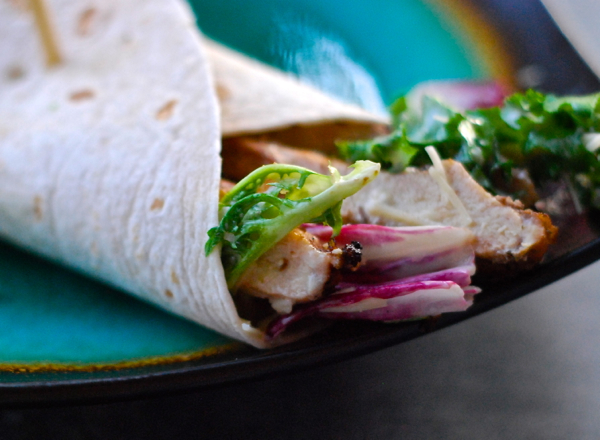 We had these amazingly yummy grilled chicken caesar salad wraps for dinner last night. Delicious and easy summer fare.
makes 4 large sandwich wraps:
4 large (burrito size) tortillas or sandwich wraps
2 or 3 large chicken breasts, grilled and cut into strips
5 oz salad greens or chopped Romaine lettuce (not iceberg)
1/2 cup freshly grated Parmesan cheese
1/2 cup (or more) Homemade Caesar Salad Dressing
Wrap the tortillas in paper towels and warm them in the microwave for about 30 seconds. Place the tortillas on 4 separate plates. Divide the grilled chicken breast strips between the tortillas, placing them down the center or the tortillas.
Place the salad greens in a large mixing bowl. Mix with the Parmesan cheese and the dressing (as much as you like.) Combine until ingredients are evenly distributed. Add more salt and pepper to taste. Pile the salad onto the chicken and wrap the tortilla around the contents, using a little bamboo skewer to secure the wraps so they don't open before you serve them.
alternate recipe: If you'd like to serve Caesar Salads instead of wraps, just pile the salad greens (that have been mixed with the cheese and dressing) onto plates. Top with homemade croutons,  a few Italian olives and a little sliced, hard boiled egg on each.
Enjoy!
~Melissa
You may enjoy these related posts: