Print Friendly Version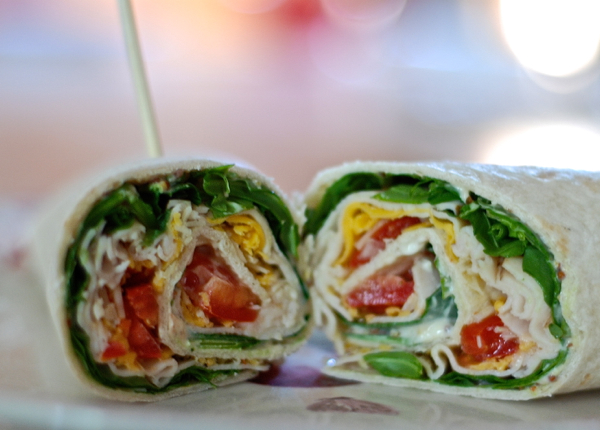 It's definitely sandwich making weather. If we're not outside grilling, we're inside making cool salads and easy, no-fuss sandwiches and wraps. It's just so lovely outside. Who wants to be stuck in a hot kitchen cooking all day? Not me. I'm a kitchen girl in the cold months, but when the flowers are blooming and the birds are singing, I want to be outside soaking up every minute of awesome weather.
Which brings me to our lunch today. Simple, delicious and healthy "Deli Wraps." SO good with a few sour cream and onion potato chips (one of my favorite guilty pleasures!)
makes one big, sharable wrap:
one large (burrito sized) flour tortilla or sandwich wrap
2 Tablespoons real mayonnaise
1 Tablespoon grainy brown mustard
a handful of spring greens
1 roma tomato, coarse chopped
2 thin slices of onion, rings seperated
8 thin slices of deli turkey (or ham or roast beef or a combination)
1/3 cup freshly grated sharp cheddar cheese
2 to 3 Tablespoons freshly grated Parmesan cheese
a sprinkle of onion powder
a sprinkle of garlic powder
a sprinkle of seasoned salt
a sprinkle of freshly ground black pepper
a drizzle of Italian salad dressing or balsamic vinaigrette
a few drops of Tabasco, Sriracha or Louisiana Hot Sauce
Place the tortilla on a cutting board. Mix the mayo and mustard and spread it evenly on the tortilla. Top the tortilla with the rest of the ingredients in the order listed, making sure to evenly distribute the ingredients for easy wrapping. Tightly roll up. Cut wrap in half on the diagonal, and secure each half with a bamboo skewer.
Enjoy!
~Melissa
You may enjoy these related posts: