Print Friendly Version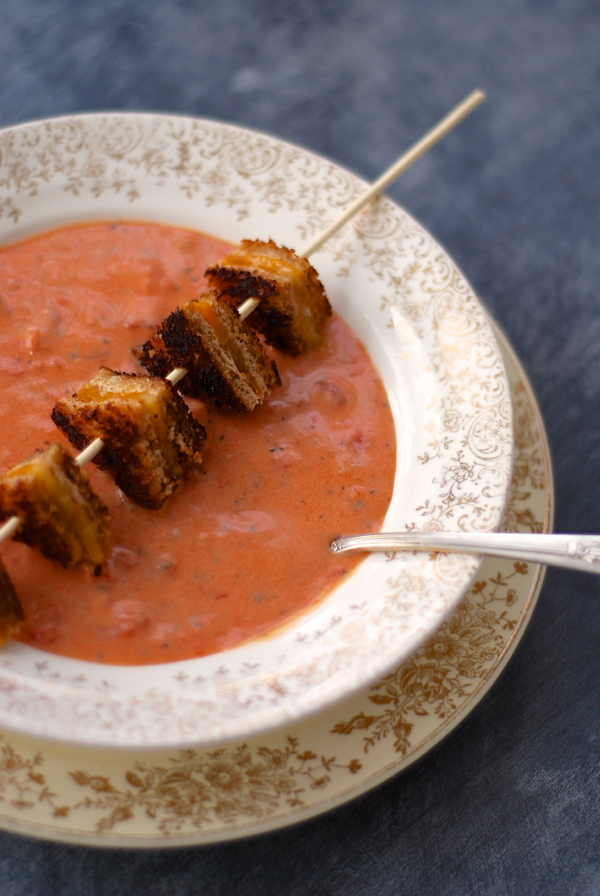 Wow! what a day. Lots of things happening right now, just trying to stay balanced while I keep all the plates spinning. I'm sure once I get use to this new, self-imposed schedule it will feel more natural and I'll relax. I really do like the feeling of getting so much done…
I did take a little break and walk up to the antique shop to see what there was to see. I ended up finding lots of great glassware for my food photos…crystal tumblers and vintage glass champagne/wine glasses…and depression glass custard cups. Some orphaned teacups and saucers that are mismatched, just the way I like them. I found a couple vintage cookbooks too. Fun odds and ends.
Tonight I'm looking forward to signing off early, watching a movie, and working on my yarn projects. So many pretty things. I can't wait to share them in this space.
Here's a cozy soup recipe for you. It's my favorite recipe for cream of tomato soup. Lovely, lovely stuff. Jeff and Gracie go bonkers over it. Serve your grilled cheese sandwiches traditional style or cut into tiny triangles and put on a skewer for easy dipping and munching.
for the soup:
2 Tablespoons butter
1/2 cup finely chopped onions
8 oz. cream cheese
2 cans Amy's Organic Cream of Tomato Soup
3 cups milk
2 cans petite diced tomatoes (including the juice)
1 Tablespoon dried basil (or fresh, if you have it)
1 Tablespoon fresh parsley, chopped fine
2 teaspoons sea salt
1 teaspoon finely ground black pepper
1 Tablespoon Sriracha hot sauce (or your favorite)
3 Tablespoons sugar
chicken stock for thinning (optional)
Melt butter in a heavy stock pot or Dutch oven. Gently saute onions until tender (about 4 minutes.) Add cream cheese, cans of tomato soup, milk and tomatoes. Lower heat and stir with a wire whisk until soup ingredients are evenly incorporated. Add basil, parsley, salt, pepper, hot sauce and sugar. Stir with a wooden spoon until soup begins to simmer and get hot. Stir constantly, watching closely, until soup is completely heated through to your liking. Don't turn the heat up too high or your soup will burn to the bottom of the pot. Thin with a little chicken stock if it seems too thick.
Serve with grilled cheese sandwiches…. mmmmmm…. soooo good!
Enjoy!
~Melissa
You may enjoy these related posts: