Print Friendly Version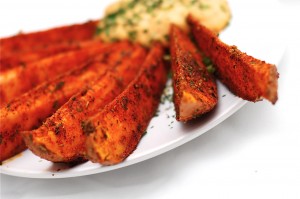 "… brings to mind a family dinner of pot roast and sweet potatoes during a myrtle-mad August in a Midwestern town." ~Diane Ackerman
This isn't your every day sweet potato recipe. These little wedges are sweet and spicy and flavorful. Perfect with grilled steak or pork chops, or as an appetizer. The dipping sauce is so delicious, you may want to make a little extra for dipping corn chips and other veggies too!

1/4 cup brown sugar
1 Tablespoon paprika
1 Tablespoon freshly ground black pepper
1 teaspoon onion powder
1 teaspoon thyme
1 teaspoon garlic powder
1/2 teaspoon cayenne pepper
1/2 teaspoon ground ginger
1/4 teaspoon curry powder (optional)
1/4 cup olive oil
2 large sweet potatoes cut into wedges (I usually cut them into eighths.)
Preheat oven to 375 degrees F (190 degrees C).
In a medium mixing bowl, stir together all ingredients except the olive oil and sweet potatoes.
Brush each wedge with olive oil. Rub the seasoning mix over the cut surface of each wedge. Place sweet potatoes on a baking sheet, or in a shallow pan.
Bake in preheated oven until tender, or about 1 hour.
Dipping Sauce-
Combine the leftover spices and olive oil with 1/2 cup sour cream, 2 Tablespoons mayonnaise and a teaspoon of Sriracha hot sauce. Serve with sweet potato wedges. Garnish with parsley if you wish.
~Melissa
You may enjoy these related posts: