Print Friendly Version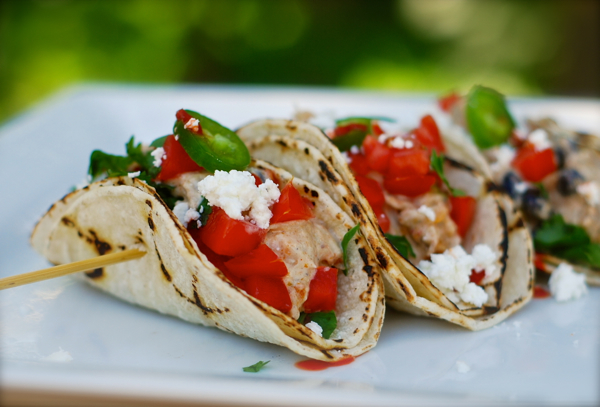 A wonderful twist on your average chicken salad! This yummy recipe can easily be converted to a vegan dish by substituting "chicken" seitan for the chicken, and vegan cream cheese for the chevre.
I thought it would be fun to serve this up on grilled corn tortillas for true Mexican flavor. So good and such a fun summer dish.
1 lb. fully cooked and cooled chicken breast OR "chicken" seitan, shredded
1/4 to 1/3 cup mayonnaise
2 Tablespoons of your favorite salsa
1 teaspoon cumin
1 teaspoon chili powder
1 large clove garlic, minced
1/2 teaspoon onion powder
1/2 teaspoon smoked paprika
Place all ingredients in a medium mixing bowl and stir to combine. Adjust seasonings and add more chicken or seitan if it seems too saucy… or more sauce if it seems too dry.
Grill tortillas over a gas burner set on low. Watch carefully so they don't burn. You'll want to double up your tortillas for this recipe so they can hold up to the salad.
Fill tortillas with some of the chicken salad, a sprinkling of chevre or vegan cream cheese (or vegan cheddar), fresh chopped tomatoes, fresh sliced jalapenos, and fresh chopped cilantro. Top with your favorite hot sauce and serve.
Enjoy!
~Melissa
You may enjoy these related posts: