Print Friendly Version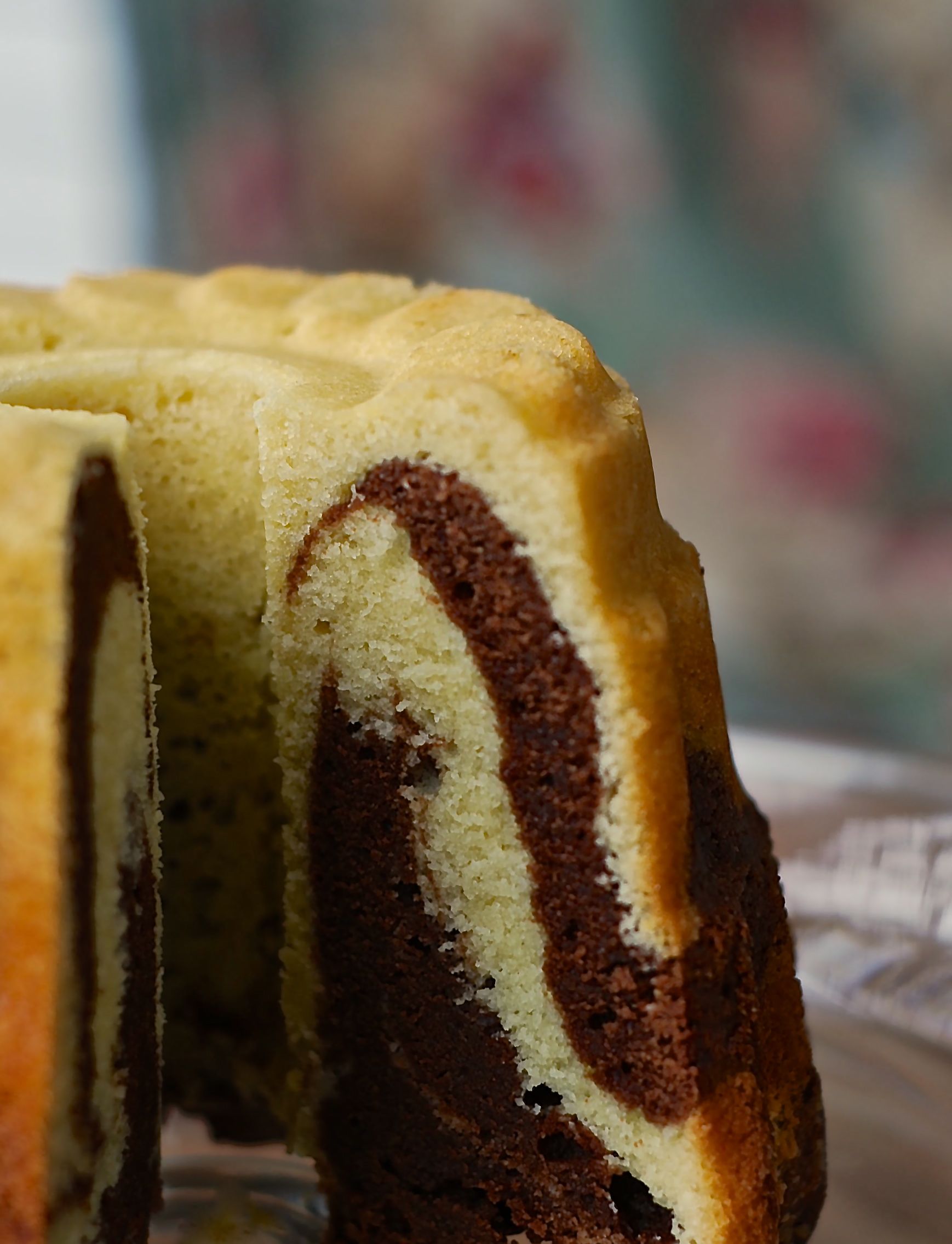 This is the cake I made for my grandgirl, Maddie's, 5th birthday. I thought something chocolate and vanilla swirl would be delicious and festive. This cake is rich, like pound cake, so I didn't frost it. Instead, I just whipped up some heavy whipping cream, put a dollop on each slice and made it fancy with red and pink heart sprinkles… oh, and sparkler birthday candles!
~ preheat oven to 350 degrees F. ~
2 and 1/4 sticks unsalted butter, softened
1 and1/4 cups sugar
4 large eggs
2 and 1/4 cups all-purpose flour
1 and 1/2 teaspoons baking powder
1/2 teaspoon salt
1 pint heavy whipping cream, divided
2 teaspoons bourbon vanilla extract
2 and 1/2 Tablespoons unsweetened cocoa powder
Generously butter a 9 and 1/2 inch springform pan or small bundt/tube pan.
In the bowl of a counter top mixer, mix butter and sugar. Beat until smooth, pale and fluffy. Add the eggs, one at a time, beating well after each addition. Combine flour, salt and baking soda. Add half of the flour mixture to the butter mixture. Mix well. Repeat with the second half of the flour mixture. Add 2/3 cup of the heavy cream and beat until well incorporated, creamy and light. Divide the mixture between 2 medium mixing bowls. Add more to one bowl than to the other. In the bowl with more batter, add the vanilla. Mix well. To the bowl with less batter, add the cocoa powder and whisk until thoroughly incorporated and the color is even.
Drop spoonfuls of the vanilla mixture into the bottom of the pan (don't worry if it doesn't completely cover the bottom.) Drop spoonfuls of chocolate on top of the vanilla. Using a wooden skewer, swirl the two batters together until it looks "stripey." Don't over mix or it won't look as nice. Repeat with the rest of the vanilla and then the rest of the chocolate. Swirl.
Bake for 50 to 70 minutes, or just until a skewer comes out with just a few crumbs sticking to it. If you're using a bundt pan or a small tube pan (like I did), make sure the dough next to the center of the cake isn't still doughy… do a skewer test there too.
Cool in pan for 10 to 15 minutes before carefully turning out onto a cake plate.
Beat the rest of the cream until fluffy. Slice cake, plate, and serve each piece with a dollop of the cream and sprinkles.
Enjoy!
~Melissa
You may enjoy these related posts: