Print Friendly Version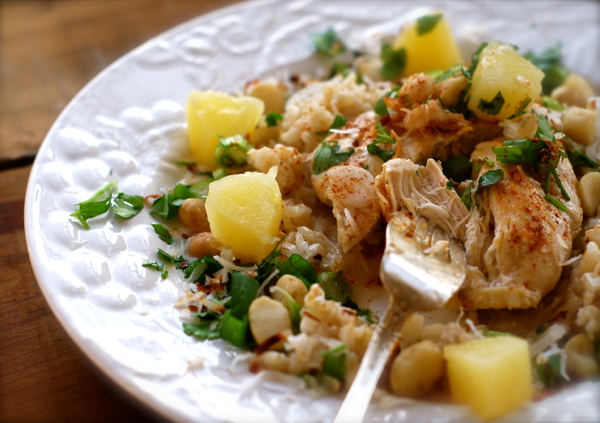 Happy Easter weekend! We just had a houseful of people… mom, brothers, sister, nephew, daughters and grand girls. We had a yummy lunch and spent the day visiting and coloring Easter eggs (4 dozen!)
The house is quiet again, for the moment, so I decided to spend some time in this space and write to all of you. And… share this recipe that so many of you are excited to receive. This is a good one. I mean goooooooooood. There's something so wonderful about the way the coconut cream mixes with the rice and the combination of flavors is outstanding. I hope you love it!
serves 4
4 large boneless, skinless chicken breasts
1/4 cup olive oil
1 (14 oz. can) coconut cream (I use Trader Joe's)
2 cups chunk pineapple, drained well
1 cup macadamia nuts, toasted (if you wish)
1 cup shredded, sweetened coconut
1/2 cup green onions, chopped
1/4 cup cilantro, chopped
lime ponzu sauce and pepper, to taste
2 cups cooked rice (white or brown is fine)
Heat the olive oil in a large skillet or Dutch oven. Blot the chicken dry with paper towels. Brown the chicken in the heated oil until golden (about 2 minutes per side.) Lower the heat, add the coconut cream. Cover and simmer gently for 15 to 20 minutes, or just until the chicken is completely cooked through. While the chicken is cooking, toast the coconut in a small skillet, over very low heat. Stir frequently and cook just until the coconut is golden.
To plate: Place 1/2 cup of the cooked rice on each of 4 plates. Top with the chicken breasts, a generous amount of the coconut cream from the pan, some pineapple chunks, toasted coconut, green onion, cilantro, macadamias, ponzu and pepper. If you don't have ponzu, a little lite soy sauce mixed with a little fresh lime juice is a good substitute.
Enjoy!
~Melissa
You may enjoy these related posts: