Print Friendly Version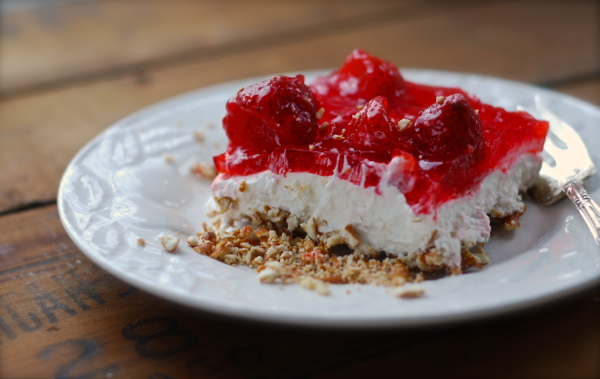 This is an old family recipe that reminds me of my childhood. My great aunt made this for family picnics and holiday gatherings. I love that the simple recipe calls for minimal ingredients, and that it's so easy to prepare, you can easily whip it up the same day you want to enjoy it.
~ serves 16 ~
for the pretzel crust:
2 cups crushed pretzels
6 Tablespoons unsalted butter, melted
3 heaping Tablespoons sugar
Preheat oven to 350 degrees F. Butter a 9 x 13 glass baking dish and set aside. In a medium bowl, mix pretzels, butter and sugar. Pat the mixture into the bottom of the prepared baking dish. Bake for 10 minutes. Cool completely on a wire rack and set aside while you prepare the filling and topping.
for the cheesecake filling:
1 (8 oz.) package cream cheese, softened
1 cup sugar
1 (10 oz.) container Cool Whip, thawed
Soften cream cheese by allowing it to sit out and come to room temperature (for about an hour.) Beat the cream cheese and sugar until smooth. Fold in the thawed whipped topping and spread over the cooled crust.
for the strawberry Jell-O Topping:
6 oz. strawberry-flavored gelatin
2 cups boiling water
1 (16 oz.) package frozen strawberries, thawed
In a large mixing bowl, combine the gelatin and the boiling water. Stir until dissolved. Add the strawberries. Place bowl in refrigerator and stir occasionally until the mixture begins to thicken. When the mixture has thickened and just started to set along the edges, spoon over the cheesecake filling. Distribute the strawberries evenly over the top. Cover and refrigerate for 4 hours. Cut into 16 squares and serve cold.
Enjoy!
~Melissa
You may enjoy these related posts: