Print Friendly Version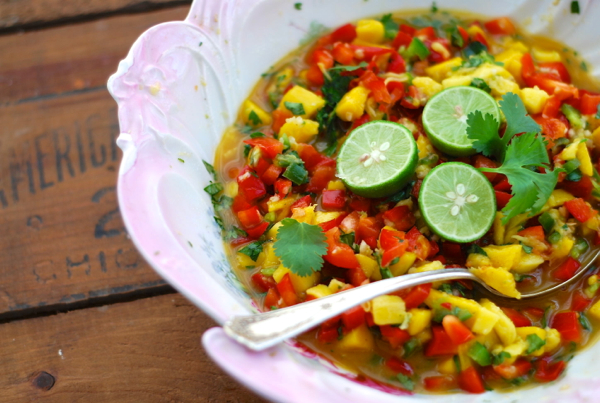 Today my friend Nancy and I discovered a new hiking path, here in Red Wing, called Sand Hill Trail. It meanders around this little sandstone bluff and it was the perfect destination for a picnic. We packed up our picnic basket with leftovers from Easter and headed out. I love days that start with an adventure. It's cool to take a few stolen hours and do something out of the ordinary on a Tuesday.
This is the salsa I made to go on our grilled pork tenderloin for Easter. I decided to make a healthy, low sodium, alternative to the traditional ham. This is absolutely delicious on all kinds of things.
Need some ideas for using this topping? Try it on/alongside these…
salmon or other grilled fish, grilled chicken, as an accompaniment to a cheese tray, as a topping for baguette spread with chevre, alongside a wheel of brie en croute, as a topping for fish tacos, and with my favorites, blue corn tortilla chips or homemade pita chips! If you use this as a salsa for chips or tacos, add a shot of tequila to it just prior to serving. YUMMY!
2 Tablespoons extra virgin olive oil
3 Tablespoons wildflower honey
juice of 5 key limes
zest of 1 key lime
1 Tablespoon white wine vinegar
1/3 cup fresh cilantro, chopped
1 whole sweet red bell pepper, seeded and chopped
2 ripe mangoes, peeled and chopped
1 jalapeno pepper, unseeded and chopped
1 Tablespoon fresh ginger, grated (or 1 teaspoon ground ginger)
2 large cloves garlic, minced
2 green onions + green tops, chopped
1/8 teaspoon cayenne pepper (or more if you like spicy)
Combine everything in a medium mixing bowl stir until everything is evenly combined. Cover and refrigerate until ready to serve. This will keep in the refrigerator for about 4 days.
Enjoy!
~Melissa
You may enjoy these related posts: