Print Friendly Version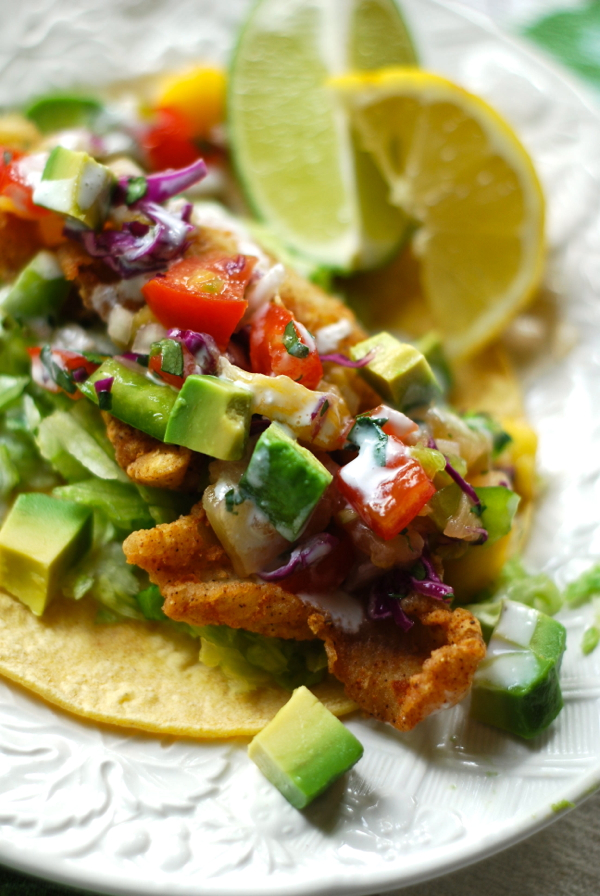 Ever since we vacationed on the island of Maui back in 2003, and experienced the taste of the amazing fish tacos there, we've been enjoying the process of creating  fish taco recipes in our own kitchen. We visited LA back in 2011 and went on a quest for the best fish taco. The fish tacos in California are quite a bit different then the ones in Hawaii, but pretty darn delicious. I tried the red snapper fish tacos at Maria Sol, a cool Mexican restaurant located at the end of Santa Monica Pier, and I must say…AWESOME. The spicier, "cajun" grilled fish tacos from Wahoo, were amazing as well. I think I ate 6! hee hee. I almost always get the Baja fish tacos when we visit the Cheesecake Factory too. Can't help myself. 😉 I've loosely adapted Rachael Ray's Baja fish taco recipe and I like that as well…the beer batter really puffs up around the fish while it's frying, and creates a crispy tempura-like breading that I crave from time to time…Love these PILED with shredded Monterey jack cheese, a squeeze of fresh lime, and fresh tomato salsa! The only fish tacos I've tried so far that I would consider to just be "so-so" are the Baja fish tacos from the Rainforest Cafe in the Mall of America. They would have been much better if that batter was crunchier. Hmmmm…love the guacamole sauce though! My most recent fish taco experience… the amazing, organic Baja Fish Tacos from At Sarah's Table ~ Chester Creek Cafe in Duluth, MN. These were some of the best fish tacos I've had anywhere, ever. Fresh from Lake Superior white fish that is so tender and flaky it melts in your mouth. Truly exquisite.
A few summers ago we invented a simple GRILLED FISH TACO recipe, that turned out wonderful! It's perfect for summer when you don't want to heat up your kitchen. Just use the freshest fish possible and let the grill do all the work. I love the sweet "Mexi-Dill" slaw! I think you will too.
On Maui, the common types of fish used in tacos are Mahi Mahi, Ahi Tuna, and Ono. These types of fish are available in Minnesota, but if you want the organic, fresh stuff, you may have to take out a second mortgage on your home to buy it. I did have some good Mahi Mahi tacos at The Veranda Restaurant in the St. James Hotel here in Red Wing that were surprisingly delicious and fresh.  Fresh sunfish is wonderful and behaves much the same way as ocean fish when fried correctly. It's delicate and flaky, and we have an abundance of it here in Minnesota. Just remember, fresh caught is always best. You can use frozen, thawed fish, but it's nowhere near as good, and has a tendency to get a bit tough when fried.
We tried two types of fish tacos while visiting Hawaii, one was grilled and the other was fried. Both were wonderful, and I sort of consolidated my favorite ingredients from both to create this fried fish taco recipe. Please feel free to use your favorite fish, and grill it instead of fry it, if that suits your tastes more. These are some of the very best fish tacos I've ever had, and as you can see, I've tried a LOT. 😉
~serves 4 to 6 hungry people~
make the salsa in advance:
1 ripe mango, diced
1/2 cup thinly shredded purple cabbage
20 oz. can pineapple chunks in heavy syrup, well drained and chopped (save the syrup)
2 Roma/plum tomatoes, seeded and chopped
1/2 of a green bell pepper, chopped
1/3 cup finely chopped Maui sweet onion (or Vidalia)
1/4 cup cilantro, chopped fine
juice of one lime
1 Tablespoon sugar
Combine everything in a large bowl. Mix well. Transfer to glass canning jars or another glass container with a lid. Cover and refrigerate until ready to use.
make the pineapple crema in advance:
the syrup from a 20 oz. can of pineapple chunks
16 oz. sour cream
Place the syrup and sour cream in a bowl, whisk until smooth. Transfer to a squeeze bottle and refrigerate until ready to use.
for the fried fish:
canola oil for frying***
3 lb. fresh fish fillets (we used fresh caught sunfish)
1 and 1/2 cups all-purpose flour
1 Tablespoon onion powder
1 Tablespoon paprika
2 teaspoons salt
1 teaspoon garlic powder
1 teaspoon powdered ginger
1 teaspoon chipotle powder
1 teaspoon fresh, finely ground black pepper
1/8 teaspoon cayenne pepper
other ingredients you'll need:
soft corn or flour tortillas (your choice, we like corn)
shredded iceberg lettuce
2 avocadoes, cut into chunks
coarse sea salt
lemon and lime wedges
Combine all of the breading ingredients in a large, shallow bowl. Lightly coat the fish fillets and fry them in hot canola oil*** for a couple minutes (just until cooked through and golden.) Transfer to a plate and cover with foil while you get your other ingredients ready to go.
***You can try frying the fish in equal amounts of butter and olive oil for a completely wonderful experience…but watch that fish very closely so it doesn't burn. Clarify the butter in advance to keep it from smoking.
To serve: Warm the tortillas in the microwave, between paper towels, for 20 seconds (only do a few tortillas at a time.)
Place the tortillas on a plate, pile on the lettuce, fried fish, avocado, salsa, crema, a sprinkle of coarse salt and a squeeze of lemon and/or lime. (In that order.) Serve immediately.
PS: I've made these with fried coconut shrimp before, in place of the fried fish! SO delicious! Also, the extra tropical salsa is wonderful piled on corn chips with a drizzle of the pineapple crema on top!
Enjoy!
Aloha!
~Melissa
You may enjoy these related posts: