Print Friendly Version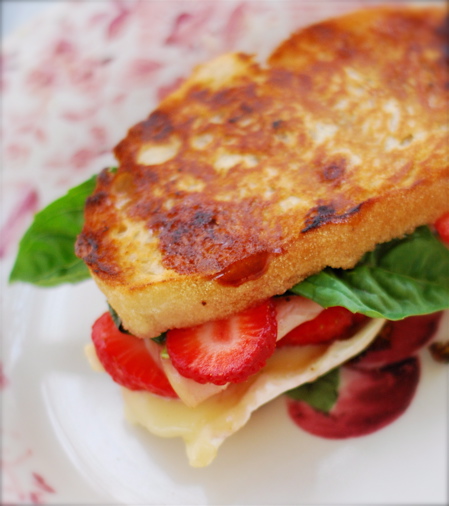 ~ strawberry turkey panini with basil & brie ~
I've been on a bit of a strawberry kick lately. LOVE these sweet little berries! It's always fun to try new, interesting recipes using them. Funny story…A few weeks ago I made Parmesan basil stuffed chicken breasts smothered with a melted strawberry/white balsamic compote…and took some photos…and without really thinking about it, ate the plate of food I had just photographed. (The last bit of this particular dish.) The next day I was all excited about posting the photo and the recipe…
Well, here. Just take a look for yourself.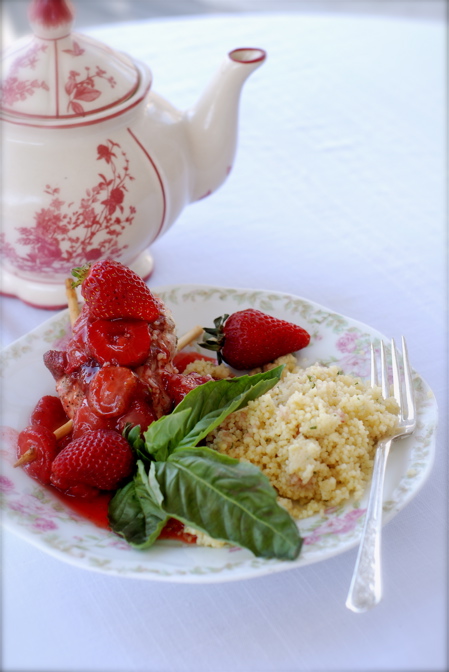 Uh. yeah. What's missing from this photo? Uh huh. The chicken. Nowhere to be found under that massive heap of berries. So the lesson here is this : Don't eat the last bit of food that you want to blog about until you make sure you got a good photo of it first. I don't care how hungry you are. Hee hee 🙂 Dang.
Anyhoo….instead of remaking the stuffed chicken smothered with the melted strawberries AGAIN, I decided to make a panini with similar ingredients to share with you.
To be honest, the chicken really was good, but these little sammys are PHENOMENAL. To make them you'll need:
Thinly sliced country style bread
brie
thinly sliced deli turkey
fresh basil
strawberries
raspberry jam
fresh jalapeno
butter
Place thin slices of country bread on a work surface. Place thinly sliced brie on the pieces of bread that will be the "bottom" of the sandwich. Put a few slices of turkey on top of the brie, then basil, then strawberries. Combine some raspberry jam with a little finely chopped jalapeno. (Those little peppers are HOT when they're fresh, so use plastic gloves when handling, and add a little at a time until it tastes good to you.) Spread the jalapeno infused jam on the "top" slices of bread, and place on top of the strawberry layer of the sandwich. Butter the sandwich as you would to make grilled cheese.
Grill on a panini grill or, on a George Foreman grill (which won't give you quite the same look as a panini grill, but it's what I use.) Grill until warm and melty.
Enjoy!
~Melissa
You may enjoy these related posts: