Print Friendly Version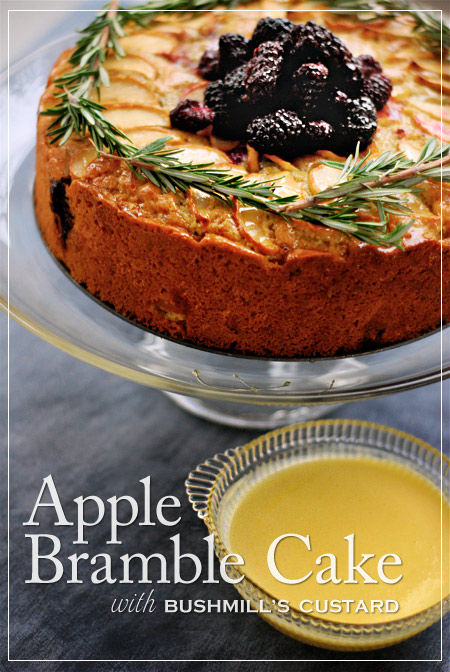 The Bushmill's Inn was originally a coaching inn that dates back as early as 1608. Located in the County Antrim town, where the Old Bushmills Distillery was granted the world's first ever license to distill whiskey, the town and inn are closely associated with the classic malt whiskey. This beautiful, fruit-filled cake that calls for apples, brambles (blackberries), and clover honey is wonderful by itself, but the whiskey-flavored custard gives it an unmistakable Northern Ireland flavor.
Ingredients:
• 1 cup (2 sticks) butter
• 1 cup sugar
• 4 eggs
• 3 cups self-rising flour
• 2 cooking apples, unpeeled, cored, and diced
• 1/2 cup blackberries (plus more for garnish) and rosemary sprigs for garnish
• 3-4 dessert apples, unpeeled, cored, and sliced
• 3 tablespoons clover honey for glaze
Bushmills Custard
• 1 1/4 cups whole milk
• 1 1/4 cups cream
• 4 egg yolks
• 1/2 cup sugar
• 1/4 cup Bushmill's Whiskey
Directions:
Preheat oven to 350°F. Generously grease a 9-inch springform pan.
Cream butter and sugar together until light and fluffy. Beat in eggs, one at a time, then sift in the flour. Stir in the diced apples and blackberries. (Batter will be very thick.) Using a rubber spatula, spread batter evenly in pan. Arrange the apple slices around the top of the batter. Bake until lightly browned, or until a skewer inserted into the center comes out clean, 45 to 50 minutes. Cool in the pan. Loosen around the edges of the cake and transfer to a serving plate.  Brush the honey over the top of the cake. Garnish with the extra blackberries and sprigs of fresh rosemary.
Bring the milk and cream to a boil over medium heat, then turn off the heat. Whisk together the egg yolks and sugar until pale and fluffy. Slowly pour in the milk/cream mixture, whisking continuously. Return to saucepan over low heat and cook until custard is thick enough to coat the back of a wooden spoon, about 10-15 minutes. Stir in the whiskey. To serve, slice the cake and spoon the custard over each slice. Makes 8 servings.
I'm collaborating with some other amazing blogs this week in a St. Pat's blog hop! Please, go on over and see these beautiful blog posts for more holiday inspiration! Thank you, Joan, for inviting me to be a part of this! XO
Debi over at  Recipes for my Boys made  Colcannon, and Irish Stew
Carrie from  Carrie's Experimental Kitchen made an  Irish Feast
Kimiko at  Beachside Baker made a  Shamrock Shake
Melissa at  Chin Deep made Apple Bramble Cake with Bushmill's Custard
Lesa at  Edesia's Notebook made  Corned Beef & Cabbage Soup
Michaela at  An Affair From the Heart made  Irish Cream Cheesecake
Joan at  Chocolate, Chocolate and More made  Grasshopper Pie
Happy St. Patrick's Week!
How do you celebrate?
~Melissa
You may enjoy these related posts: