Print Friendly Version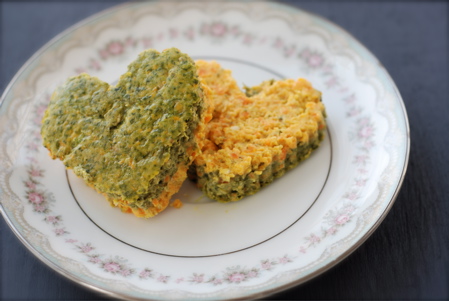 ~ spinach & carrot ramekins with bechamel ~
This is a recipe adapted from one of my favorite cookbooks, the beautiful Apples for Jam by Tessa Kiros. You can make these in seperate little (2 inch) ramekins, or in one big glass casserole pan. This time I made them in a big pan and cut out individual custards with a metal, heart-shaped cookie cutter. I think they turned out really cute, and it's a great way to get the kids to eat veggies. These are yummy, sweet and creamy with the slight flavor of nutmeg.
preheat oven to 350 degrees F
4 medium carrots, peeled and chopped
5 cups loosely-packed, fresh spinach leaves
4 and 1/2 Tablespoons butter
1/3 cup all-purpose flour
1 and 1/3 cups whole milk, warmed
salt and freshly ground black pepper
freshlyground nutmeg
3/4 cup freshly grated Parmigiano Reggiano
2 large eggs, lightly beaten
Butter 10 little oven-safe ramekins or a 2.8 liter casserole pan with a flat bottom. Cook the carrots in boiling, salted water until they're soft. Lift them out with a slotted spoon, puree in food processor and transfer to a bowl. Add the spinach to the boiling carrot water and blanch for a few minutes. Drain. Set aside until cool enough to handle. Squeeze out excess water. Puree, and put in a separate bowl. Rinse and dry bowl of food processor.
to make bechamel:
Melt butter in a small saucepan over low heat. Whisk in the flour and cook for a few minutes, stirring constantly. Begin adding warm milk, working quickly (I like to use a wire whisk.) Stir until smooth and not too stiff. Add salt, pepper and a grating of nutmeg. Stir constantly over low heat for 5 minutes. The sauce should be very thick and smooth.
Add the carrots back to the bowl of the food processor. Add 10 Tablespoons of the bechamel, along with half of the Parmesan. Puree until smooth. Add a beaten egg, and mix until fully incorporated. Add the rest of the bechamel and Parmesan to the spinach. Add the other egg. Combine well. Season each mixture to taste.
Divide the spinach mixture between the ramekins, or spread evenly in the bottom of the casserole pan. Divide the carrot mixture between the ramekins or spread on top of the spinach layer in the casserole pan. Bake in a water bath that comes halfway up the sides of the molds/casserole pan. Bake for 45 minutes, or until puffed, golden and firm. Turn off oven and allow to sit in the oven for an additional 10 minutes. Remove the ramekins from the pan, run a knife along the rims and transfer to plates. If using a casserole, allow to cool on the counter for 10-15 minutes before cutting into shapes with a cookie cutter. (Or you can just cut the veggie-bechamel into squares.)
Enjoy!
~Melissa
You may enjoy these related posts: