Print Friendly Version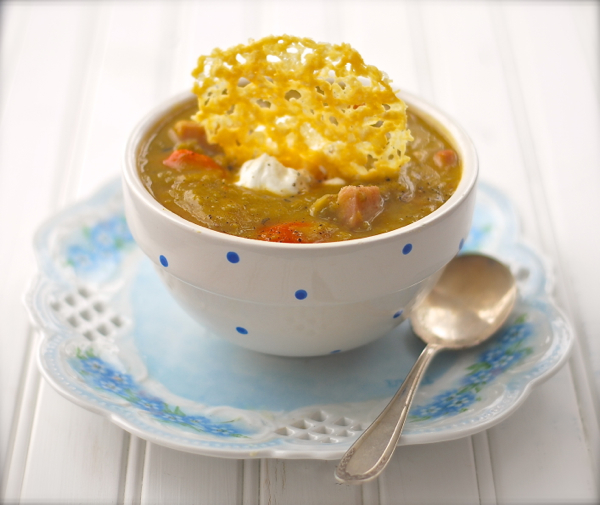 I have to admit I'm getting tired of the overlapping days of snow…snow…snow…
Looking forward to Spring now. There have been some vague indicators of it's arrival. The temperature will rise up to around 40 one day, and the outside air will smell like spring and wet leaves, and icicles dripping from all the housetops… Reminding me of THIS song. Making me want to throw open the windows so I can hear the church bells from the half dozen churches located within just a couple blocks of my house. Making me long for trips to the garden center for seeds and soil and baby plants. Dreaming of the days when I can wash our linens in lavender and hang them on the clothesline that my dear hubby installed for me last mother's day.
Here's a delicious and very easy recipe for split pea soup. I use to make my split pea soup in my crock pot. For years I did it that way…and then, for some reason, I had a bad experience where the peas didn't cook up right, and I had to throw it out and order pizza for dinner.
So, I thought I'd go back to my old, old recipe. One of the first things I made when I moved out of my parents' house. The Parmesan tuiles are delicious with this and make the soup a little fancier, without a lot of extra work.
for the soup:
1 lb. yellow or green split peas, washed and sorted
1 small, smoked pork hock
11 cups water
1 cup dry white wine
1 medium onion, coarse chopped
5 large carrots, cleaned and sliced on the diagonal
1 large celery stalk, chopped fine
2 large cloves garlic, minced (or 2 teaspoons garlic powder)
2 teaspoons sweet curry powder
1 heaping Tablespoon Italian seasoning
2 teaspoons smoked paprika or regular paprika
1/4 teaspoon nutmeg
pinch of cayenne pepper
1/4 cup olive oil
1 lb. fully cooked ham, chopped into bite-size chunks
Place everything, except for the chopped ham, in a large, heavy soup pot. Bring to a boil. Turn down to a low boil and cook, with lid slightly askew, for 30 minutes. Lower to a gentle simmer after the 30 minutes is up. Cover pot tightly and cook for an additional hour or so, or until the peas are no longer mealy, but smooth. Stir and check often to make sure the soup doesn't stick to the bottom of the pot and burn. When the soup is done, remove the pork hock and add the ham. Cook just until ham is heated through. Ladle into bowls.
for the Parmesan Tuiles:
makes 6
You can make these while the soup is cooking so everything is ready to serve at once.
1/2 cup freshly grated Parmesan cheese
Place 6 equal mounds of the cheese on a Silpat sheet, about 2 inches apart. Flattern them a bit with the back of a spoon. Bake in a 400 degree oven for about 5 minutes, or just until they begin to brown and look crispy and a bit dry.
Remove from oven and allow to cool on the Silpat for a couple minutes. Transfer to a cooling rack to cool completely.
To serve:
Place a little dollop of sour cream or greek yogurt on top of a bowl of soup. Place a tuile in the sour cream so it stands up. Serve immediately.
Enjoy!
~Melissa
You may enjoy these related posts: