Print Friendly Version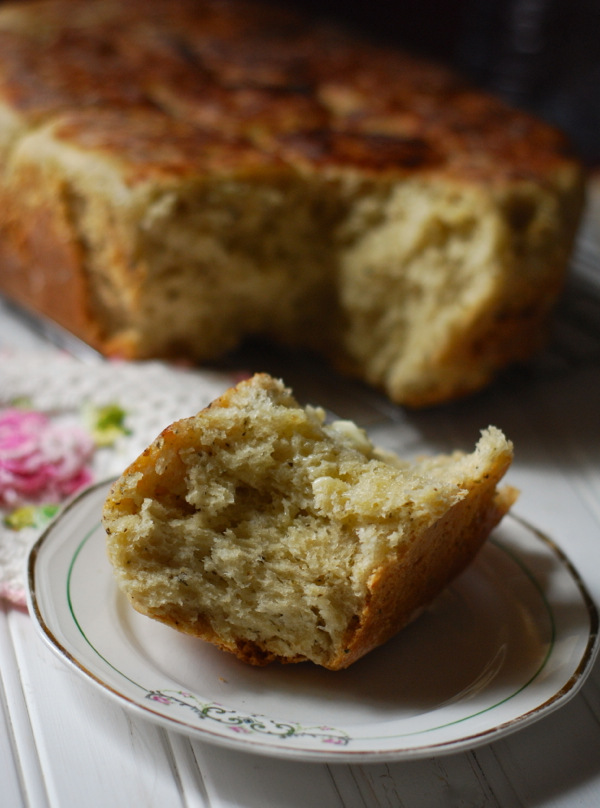 You may be asking yourself why anyone would attempt to make bread in a crockpot. When I heard about using pre-made bread dough to make dinner rolls this way, I asked myself the same question. Crockpot bread is not something you leave cooking all day when you go to the office. You have to keep an eye on it and it takes longer to "bake" than putting the bread in the oven. But…the wonderful thing I discovered about making bread this way is that it doesn't take up your oven space when you're cooking a big dinner, and it doesn't heat up your kitchen which would make it a perfect candidate for making fresh herb bread, with a bit of lemon zest, on a hot summer day! I'm looking forward to developing a bunch of recipes that I can try this summer. Stay tuned…
The recipe I invented yesterday has Parmesan, garlic, Italian herbs and onion in it. If you're just looking to make a loaf of plain bread, simply omit these ingredients. You'll end up with a wonderful "pull apart" loaf that will go good with anything! And…if you'd like to add cinnamon, nutmeg and a few pecans to the recipe instead of the savory ingredients you'll have an amazing brunch bread! Top with butter and your favorite icing, fruit curd, jam or marmalade! YUMMY!
This recipe makes the perfect amount of dough to "bake" in a 6 quart crockpot. If you only have a smaller size, just cut the recipe in half.
Combine and set aside:
2 cups all-purpose flour
1/2 cup grated Parmesan cheese
1/4 cup sugar
1 Tablespoon salt
1 teaspoon finely ground black pepper
2 packets dry active yeast (not instant or quick rise)
2 heaping Tablespoons dry Italian seasoning or Pizza Seasoning
1 teaspoon onion powder
1 teaspoon garlic powder
Heat until warm:
1 cup water
1 cup milk
1/4 cup canola or olive oil
Add later:
2 and 1/2 cups additional flour
1 large egg, lightly beaten
Warm the water, milk and oil (not too hot) and add the liquids to the dry ingredients. Mix until ingredients are incorporated, using a wire whisk. Add the egg, and mix until just incorporated. Add the flour, one cup at a time, and stir into mixture using a spoon. With floured hands, form dough into a ball. Place in a well-buttered bowl, cover with buttered plastic wrap, and set in a warm place to rise for an hour (or until doubled in size.)
When dough has doubled in size, use floured hands to pat down gently. Remove to a cutting board and using a sharp knife, cut into 14 pieces that are close to the same size.
Oil a piece of cooking parchment with about 2 or 3 teaspoons of oil. Place in the bottom of a 6 quart crockpot. Sprinkle with a little cornmeal. Form the dough pieces into balls and place them all in the bottom of the crockpot in one even layer. Sprinkle the top with a little coarse sea salt if you like. Cover crockpot. Set on HIGH and "bake" for about 1 and 1/2 hours, or until the bread is firm on top and the edges of the loaf are beginning to turn golden brown. The top will not be golden.
To finish your loaf: Turn off and unplug crockpot. Using a butter knife, loosen the loaf from the edges of the pot. Turn out. Remove parchment from loaf. Butter the top of the loaf using a pastry brush and place under a broiler for a couple minutes, watching closely so the bread doesn't burn. Allow to cool for a few minutes before eating.
Enjoy!
~Melissa
You may enjoy these related posts: