Print Friendly Version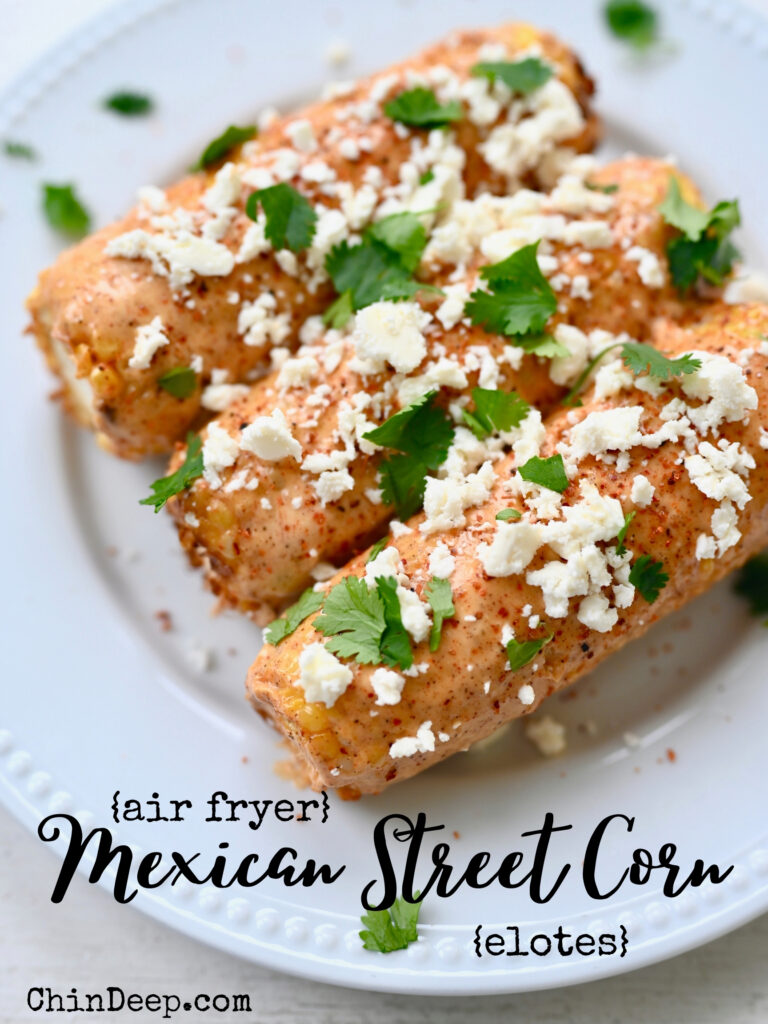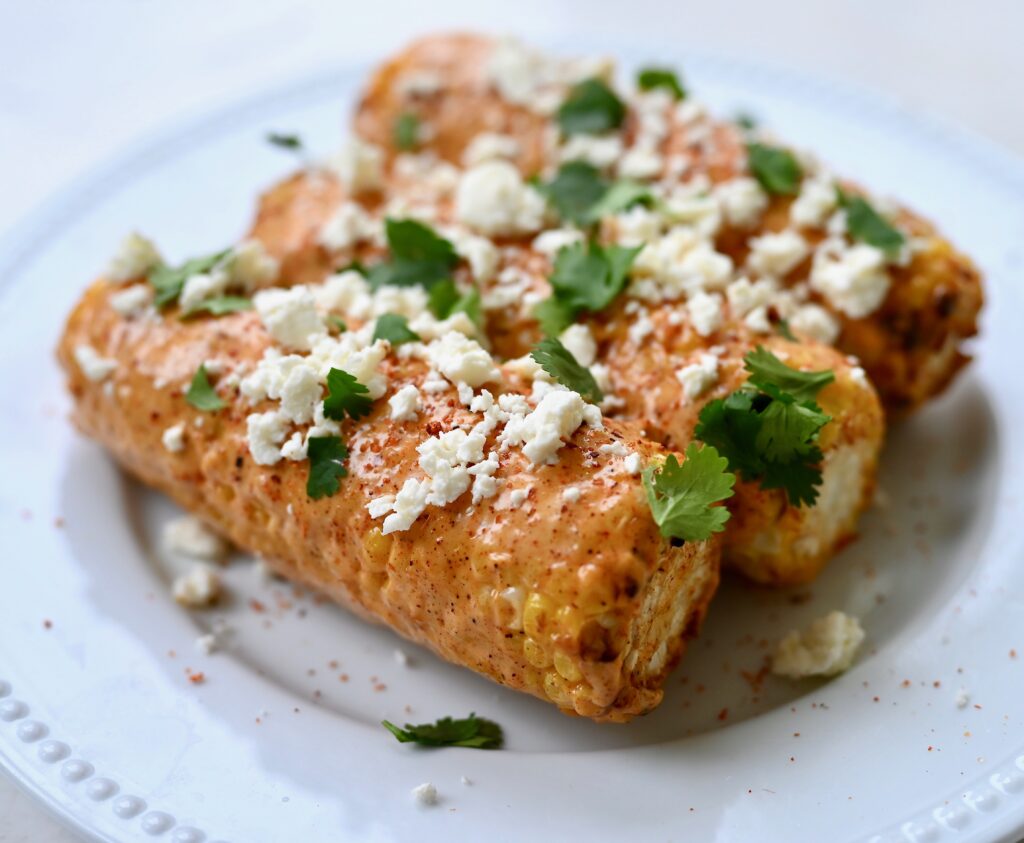 Have you tried Mexican street corn? It's also called elotes. Whatever you call it, it's incredibly delicious and easier than ever to prepare in your air fryer. Traditionally elotes are grilled over charcoal, but if you don't happen to be grilling, and want to make some street corn the easy way, preheat your air fryer to 400 degrees F. for a few minutes and whip up a batch of the spicy mayonnaise topping while you wait.
This recipe can easily be doubled or tripled. Just make up as much sauce as you'll need to coat the corn. This recipe makes enough for 6 ears of corn.
I have a pretty big air fryer and I can only make 3 ears of corn at a time, but it goes really fast so no worries.
for the corn:
6 ears sweet corn
1/4 cup melted butter (we use organic vegan Earth Balance)
Peel corn and remove all cornsilk from the ears. Wash ears and pat dry. Melt the butter and brush each piece of corn with the butter, coating completely. Place corn in air fryer so the ears aren't touching and air fry at 400 degrees F. for 10 minutes, flipping them and moving them around every few minutes until completely cooked through and slightly golden in places.
While the corn is cooking, make the sauce. Place the rest of the butter in a bowl and add:
2 teaspoons chili powder
1 teaspoon garlic powder
1 teaspoon smoked paprika
2/3 cup mayonnaise (we use Vegenaise)
Whisk smooth in a shallow, wide bowl big enough to fit the corn so you can roll it around in the sauce. Once corn is done, remove it from the air fryer and let it cool a minute so you can handle it without burning your fingers. Roll the corn in the sauce, one piece at a time and place on a serving platter. Repeat until you've coated every piece of corn.
Then sprinkle on:
1/2 teaspoon freshly ground black pepper + a dash of cayenne pepper
1/2 cup to 3/4 cup crumbled feta cheese (we use vegan Violife feta)
Tajin seasoning (optional)
coarsely chopped cilantro leaves
Serve with lime wedges so everyone can drizzle a little fresh lime juice on their corn just prior to eating.
Elotes are a wonderful addition to any meal, but are especially wonderful with Mexican food. We love them with tacos, taco-stuffed tomatoes, crunchwraps, and chimichangas!
Enjoy!
~Melissa
You may enjoy these related posts: