Print Friendly Version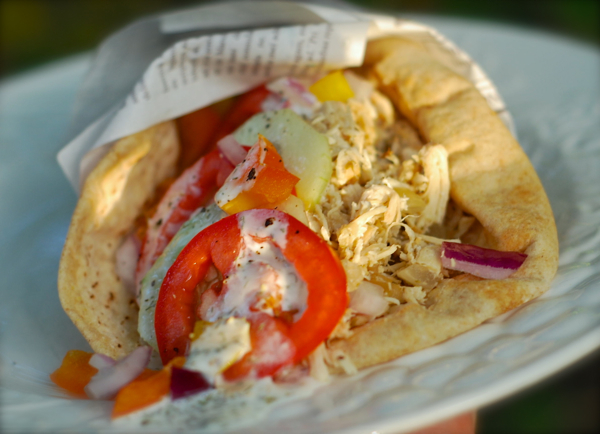 You can never have too many recipes for chicken, in my opinion. It's such a versatile, high protein meat and it's fairly inexpensive, so we eat it at least 3 times a week. When you don't have a few unique, interesting recipes up your sleeve, chicken can become soooooo boring. Here's a fun way to dress it up! It's slow cooked in the Crock Pot, and it's easy peasy. It's delicious and definitely fancy enough for company. Guests will enjoy building their pita sandwiches the way they like. Double or triple it if you wish.
filling for 6 greek chicken pita sandwiches:
2 lb. boneless, skinless chicken breasts or thighs (or a combination of the two)
1 large onion, quartered and sliced
3 cloves garlic, minced
1/4 cup fresh lemon juice
1/4 cup low sodium chicken stock or broth
2 Tablespoons white wine
2 Tablespoons butter or olive oil
1 heaping Tablespoon fresh, chopped oregano (or 1 Tablespoon dry)
1/2 teaspoon dill
1/4 teaspoon garam masala OR allspice
2 teaspoons lemon zest
1 teaspoon freshly ground black pepper
1/2 teaspoon sea salt
Oil inside of your 6 to 7 quart slow cooker with vegetable oil or nonstick cooking spray. Place fresh or completely thawed chicken in crock. Mix remaining ingredients together in a small bowl and pour over chicken breasts. Cover and cook on HIGH setting for 3 to 4 hours, or the LOW setting for 6 to 7. Check the chicken after the first couple hours. You don't want to check it too often, but you don't want to overcook it either. (I cooked it on LOW for 5 hours and it turned out perfect.) All slow cookers cook at slightly different rates.
Once meat is done, shred it in the liquid that it cooked in. When you serve your pita sandwiches, drain the meat/onion mixture well so the filling doesn't make your pita bread soggy. Top with any or all of the suggested toppings and serve.
topping/accoutrement suggestions:
6 pita rounds (get the thick ones, not "pocket" bread)
sliced tomatoes
sliced bell peppers
chopped red onion
sliced cucumbers
shredded lettuce or chopped, fresh spinach
crumbled feta or chevre cheese
tzatziki sauce, garlic tahini dressing or buttermilk dill ranch dressing
sea salt and freshly ground black pepper, to taste
Enjoy!
~Melissa
You may enjoy these related posts: