Print Friendly Version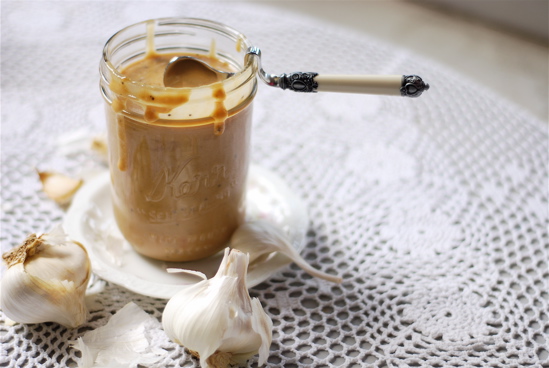 I've been cooking with cayenne,  spicy peppers, fresh ginger, wasabi and garlic this week. I'm trying to get rid of a nasty summer cold that just crept in and decided to stay for awhile. I waited about a week, tried to rest, drank local honey and raw vinegar thinking I might be able to make it just go away… but,  ended up at the doctor's office today anyway. I have to say, all of the spicy food has helped quite a bit though.
Enough of that. 🙂
One of my favorite ways to prepare garlic is to oven roast it. It mellows out while roasting, and although the flavor changes and is less spicy, it's still amazing. A perfect, low fat way to add flavor to all sorts of things. I can eat an entire bulb at a go when it's being served with good bread or pizza. If you've tried it you know what I'm talking about, and if you never have, this salad dressing recipe is a great opportunity!
Oven roast 2 heads of garlic using this method:
Cut the tops off two whole heads of garlic. Place in a small, glass, oven proof dish. Pour a generous amount of extra virgin olive oil over the heads, making sure to coat the cloves well. Replace tops. cover with a tight fitting lid or foil. Bake for an hour, or until the cloves become soft and spreadable.
for the salad dressing:
2 heads of oven roasted garlic
1/2 cup tahini (sesame butter)
1/4 cup extra virgin olive oil
3 Tablespoons soy sauce
2 Tablespoons white wine
3 Tablespoons honey
3 Tablespoons apple cider vinegar
2 Tablespoons dark sesame oil
1 teaspoon Sriracha hot sauce
1 Tablespoon onion powder
1 teaspoon powdered ginger
1/3 cup water
After oven roasting the garlic it will be very soft. Allow it to cool and remove all of the cloves from the skins. Place in the bowl of a food processor along with the other ingredients listed. Add a little extra water if it seems to thick. Adjust salt, pepper and Sriracha to taste. Enjoy on salads, as a dip or along with stir fried veggies and soba noodles for a yummy noodle bowl dinner. This dressing will keep in your fridge for a week.
~Melissa
You may enjoy these related posts: