Print Friendly Version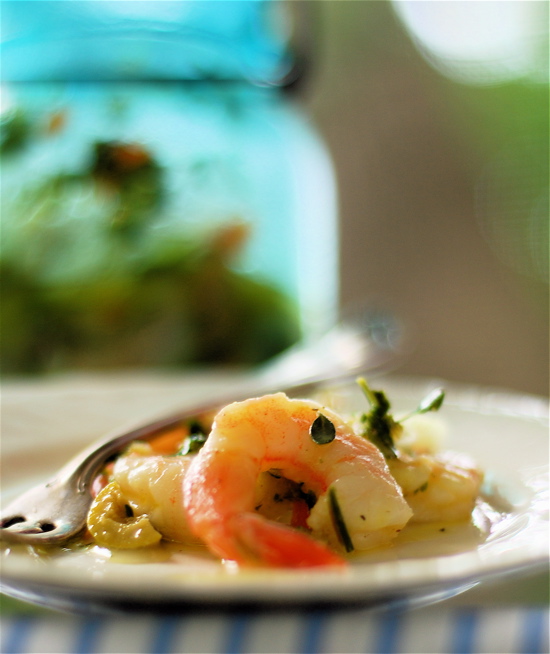 I love cold fish dishes in the summer. Lobster rolls, sushi, ceviche, and cold fish carpaccio with pink peppercorns are some of my favorites….oh, and this little number….
Cold, garlicky, full of fresh herbs and marinated for 8-24 hours in lemon and white wine…. French shrimp ravigote is like a refreshing sea breeze on the Blue Coast! We love this as an appetizer for a warm weather wine party along with crusty bread, caprese and grilled swordfish with pineapple salsa.
for the sauce vinaigrette marinade:
1/2 cup extra virgin olive oil
1/2 cup dry white wine (we like Sauv Blanc)
1/2 cup fresh lemon juice
1 teaspoon lemon zest
2 teaspoons sea salt
fresh pepper to taste
2 large cloves garlic, minced
2 teaspoons dijon mustard
1/3 cup chopped olives (your favorites!) or capers
1/2 mild white onion, sliced very thin
1/2 cup fresh herbs, chopped (tarragon, basil,chives, oregano and lemon thyme are good)
Combine the above ingredients in a medium mixing bowl along with 1 to 1 and 1/2 lb. chilled, cooked shrimp. Gently pack into a large canning jar and press the fish down below the surface of the liquid. Marinate for 8 to 24 hours in the fridge. Serve chilled with your favorite white wine.
Happy summer!
XO,
~Melissa
You may enjoy these related posts: