Print Friendly Version
"Let them eat cake." ~Marie Antoinette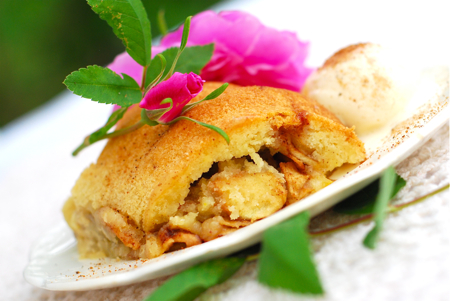 Good Morning everyone. Enjoy a slice of this decadent apple cake with a cup of rich, dark coffee for a sweet breakfast treat, or have a piece with a scoop of vanilla ice cream for an elegant dessert. Soooo yummy and moist!
Jewish Apple Cake
4 medium apples, peeled, cored, and thinly sliced
1 Tablespoon cinnamon
5 Tablespoons sugar
1/2 teaspoon nutmeg
1 cup canola oil
2 and 1/2 cups sugar
4 eggs
1/3 cup freshly squeezed lemon juice plus 1 teaspoon zest
3 cups flour (White Lily is the very best!)
3 teaspoons baking powder
1/2 teaspoon kosher salt
3 teaspoons dark Mexican vanilla
Peel and slice apples. Toss with cinnamon and 5T sugar. Set aside. Meanwhile, beat oil and 2 and 1/2 cups sugar,vanilla, and lemon juice together. Add eggs. Beat well. Combine flour, baking powder and salt. Mix the wet and dry ingredients together.
Spoon half the batter into a bundt pan that's been buttered and floured. Spoon apples evenly on top of batter (if the apples are sitting in juice, discard juice. Adding it will make the cake too moist, and will take a long time to cook.) Evenly spread remaining cake batter over apple filling.
Bake in a 35o degree oven for an hour. Test the cake with a toothpick. If the toothpick comes clean when inserted into cake, the cake is done.
Allow to set for 15 minutes before unmolding. Sprinkle a little powdered sugar over the top and decorate with fresh, edible flowers as a garnish.
~Melissa
You may enjoy these related posts: