Print Friendly Version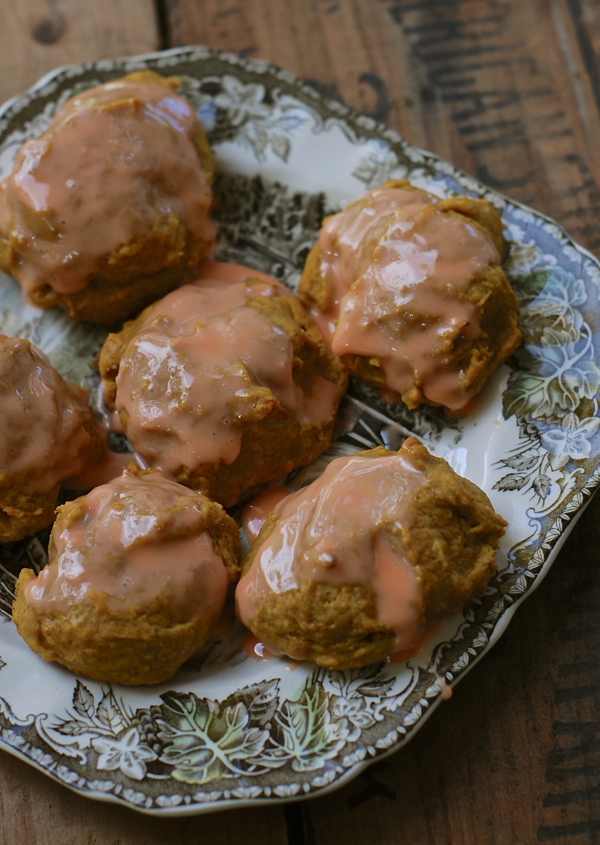 My daughter, Grace, has been on a mission to create simple, delicious and healthy treats. These little cake-like cookies are only 40 calories a piece when they're unfrosted, and they're mostly sweetened with healthful stevia.
You can ice them with a simple powdered sugar icing (as shown above) or you could just dust them with powdered sugar instead. Either way, they're delicious!
Yield- 12 to 15 cookies
1/4 cup unsalted butter, softened
1/4 cup granulated stevia
1/4 cup firmly packed brown sugar
3/4 cup canned pumpkin
1 egg white
1/2 teaspoon pure vanilla extract
1 cup all purpose flour (you can use gluten free all purpose flour, if you like)
1/2 teaspoon baking soda
1/2 teaspoon baking powder
1 teaspoon cinnamon
1/8 teaspoon salt
In a large mixing bowl, combine: butter, stevia, brown sugar, pumpkin, egg white and vanilla. Mix well.
In a separate mixing bowl, combine: flour, baking soda, baking powder, cinnamon and salt. Mix well.
Add dry ingredients to wet ingredients and mix until just combined. Drop by Tablespoonfuls onto a lightly greased cookie sheet. Bake at 375 degrees F for 10 to 12 minutes, or just until set. They're done when a toothpick inserted into the center of a cookie comes clean.
Cool completely and ice or dust with powdered sugar, if desired.
To make a simple icing: Combine 1 cup powdered sugar with a couple teaspoons of milk. Add a little more if needed, until the icing is the desired consistency. Add a drop of orange food coloring to the icing, if you wish.
Enjoy!
Grace and Melissa
You may enjoy these related posts: