Print Friendly Version
~three recipes using your garden harvest~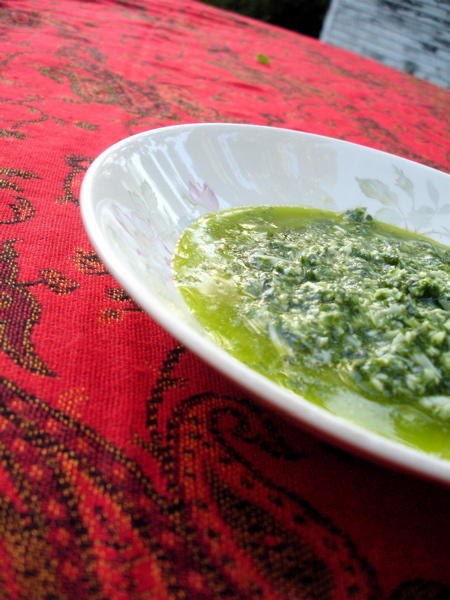 ~ basil pesto ~
"Can love really travel back in time and heal a broken heart? Was it our joined hands that finally lifted Maria's curse? I'd like to think so. But there are some things I know for certain: always throw spilt salt over your left shoulder, keep rosemary by your garden gate, plant lavender for luck, and fall in love whenever you can." ~Sally Owens ~Practical Magic
2 cups fresh basil leaves, packed
3 large cloves fresh garlic
1/4 cup pine nuts or pecans
2/3 cup extra virgin olive oil (I use unfiltered)
sea salt and fresh pepper, to taste
1/2 cup fresh grated Percorino or Parmigiano Reggiano cheese
Combine basil, garlic and nuts in food processor. Pulse until chopped. Add oil. Process until fully smooth. Add salt and pepper to taste. Transfer to a bowl and stir in the grated cheese. Serve with crusty baguette or boule, and a variety of cheeses as a mouthwatering appetizer. Toss with cooked spaghetti noodles and grilled chicken breast strips for a quick and healthy dinner. Mix with fresh Roma tomatoes for a delicious tomato salad. There are so many fun and innovative ways to use this Italian condiment!
~  italian vegetable garden gratin ~
This was a very easy side dish to put together. It's a layered veggie dish that will give you the opportunity to use up some of that summer produce! YAY! I made it one night as an accompaniment to grilled fillet mignon. Jeff and Gracie went bonkers over it. We fried it up in a little olive oil the next morning and topped it with poached eggs. Heaven!
extra virgin olive oil for drizzling
1/2 lb Yukon Gold or Russet potatoes, scrubbed and cut 1/4 in. thick
salt and freshly ground pepper
1/2 yellow bell pepper, thinly sliced
1/2 orange bell pepper, thinly sliced
1 small onion, thinly sliced
2 large garlic cloves minced
2 teaspoons fresh thyme leaves
2 teaspoons fresh oregano leaves
4 plum tomatoes, sliced 1/4 in. thick
2 small zucchini, sliced on the diagonal, 1/4 in. thick
1/4-1/3 cup freshly grated Parmigiano-Reggiano cheese
1/2 teaspoon red pepper flakes (optional)
Preheat oven to 350 degrees F. Coat a 10 inch, glass pie plate with olive oil. Spread potatoes in dish evenly. Drizzle with oil, season with salt and pepper. Mix the peppers, onion, garlic, thyme and oregano in a mixing bowl. Season with salt and pepper. Place 2/3 of the mixture over the potatoes. Drizzle with oil. Top with a layer of tomatoes, and then a layer of the zucchini (using all of the tomatoes and zucchini). Cover with remaining bell pepper mixture. Drizzle with a little more oil. Sprinkle the cheese over. Cover casserole with foil and bake for 45 minutes. Increase temperature to 425 degrees F. Uncover casserole and bake an additional 20 minutes, until veggies are tender and the cheese is golden. Let stand for 10 minutes before serving.
~ zucchini fritters ~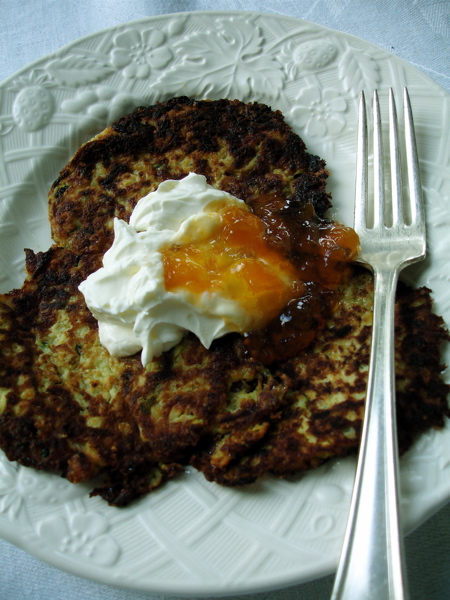 This was a yummy way to use up even more zucchini. They're great as a side dish or breakfast!
I used THIS RECIPE.
Enjoy!
~Melissa
You may enjoy these related posts: