Print Friendly Version
"A good cook is like a sorceress who dispenses happiness." ~Elsa Schiaparelli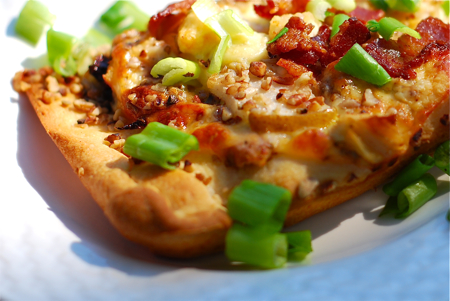 Pear Gorgonzola Bacon Pizza
This pizza is lovely when paired with a good Chardonnay or Riesling.
Preheat oven to 425 degrees
20 oz. pizza dough (the refrigerated kind is fine for this recipe)
a little extra virgin olive oil and Italian seasoning
2 large, cooked chicken breasts, cut into chunks
4 oz. sundried tomatoes
8 oz. sliced Provolone cheese
2 Bosc pears, peeled and sliced thin
5 oz. crumbled Gorgonzola cheese
4 oz. chopped pecans
4 chopped, fresh chives
1/2 lb bacon, cooked until crispy
Evenly spread the pizza dough into a large jellyroll pan.  Rub with a couple Tablespoons good quality extra virgin olive oil. Sprinkle with Italian seasoning. Next top the dough with the chicken chunks and sundried tomatoes. Arrange Provolone slices over the chicken and tomatoes. Top Provolone with pear slices. Sprinkle Gorgonzola chunks, pecans, chives and bacon over the top. Bake until the crust is browned, and the cheese is completely melted, about 15 minutes. Serve warm.
Enjoy!
~Melissa
You may enjoy these related posts: