Print Friendly Version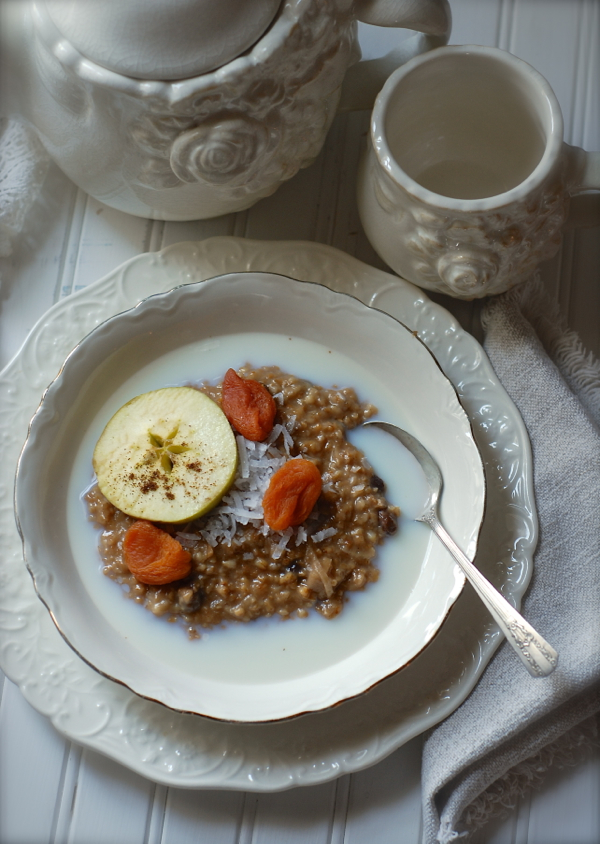 I love waking up in the morning to the wonderful scent of something amazing cooking in the kitchen. Sometimes on the weekends Jeff will make pancakes, bacon and French press coffee. There's something so cozy about being greeted with these smells as soon as you awake. We've always said that our house reminds us of the B&B weekends we've enjoyed over the years, and the whole yummy breakfast thing just adds to those memories. For the first four nights of our honeymoon we stayed in the oldest hotel in Minnesota, The Anderson house. It was actually more like a big B&B. Every morning we could smell cinnamon rolls baking, bacon frying and coffee brewing before we even left our room. Ahhhh, memories…. 🙂
Here's a lovely recipe that you can whip up before you go to bed, and when you get up the first thing you'll smell is cinnamon and apples. Seriously! I woke up today and thought someone had baked a pie…and then I remembered the oatmeal….
This turned out so good. I made a bunch because I like baking "Leftover Oatmeal Muffins" with the extra. I'll include that recipe below so you can give it a whirl if you like.
~ Cottage Kitchen ~ Overnight Crockpot Oatmeal ~
2 cups steel cut oats (no substitutes)
1 cup raisins (or other dried fruit)
1 cup unpeeled, chopped apple
1/2 cup flaked coconut (optional)
8 cups water
1 cup milk
1 teaspoon salt
1 teaspoon pumpkin pie spice
1/2 teaspoon cinnamon
pinch of cloves
1 teaspoon pure vanilla extract
Combine all in a large crock pot. Stir to combine. Cover and set on LOW. Allow to cook for  7 to 8 hours. When you wake up in the morning, stir in 2/3 cup sugar, brown sugar or honey (don't add the sweetener the night before or it will cause your oatmeal to burn.)
Scoop oatemal into bowls. Top with milk or cream and additional fresh or dried fruit if you like.
~ Leftover Oatmeal Muffins ~
(Adaapted from Soule Mama)
2 cups cooked oatmeal
2 eggs, lightly beaten
2 Tablespoons melted butter
1 cup milk
1/2 cup maple syrup
1 teaspoon pure vanilla extract
2 Tablespoons baking powder
3 cups all purpose flour
1 teaspoon cinnamon
1 cup chocolate chips (or berries, or dried fruit…)
Combine all until just moistened. Fill buttered muffin tins 2/3 full. Bake in 400 degree oven for about 20 minutes.
Enjoy!
~Melissa
You may enjoy these related posts: