Print Friendly Version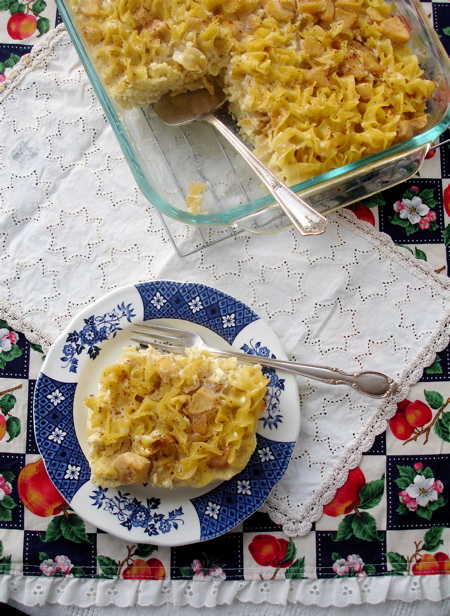 ~ kugel ~
A little sweet, a little savory…perfect as a side dish for apricot glazed ham, brisket, meatloaf or as an accompaniment to your bacon in the morning. I love the slight cinnamony, nutmeggy, appley flavors of this quintessential comfort food. Here's my recipe.
1/2 cup butter, softened
1 pound broad egg noodles
6 large eggs
2 cups sour cream or Greek yogurt
1 cup sugar
8 oz. Neufchatel cheese, softened
1 teaspoon ground cinnamon
1/2 teaspoon grated nutmeg
3 large apples, peeled, cored, chopped
Preheat oven to 350 degrees F. Butter a 9×13 glass cake pan. Cook egg noodles according to package directions (just until al dente…about 6 minutes.) Drain and pour into a large bowl. Toss noodles with a little butter and cover to prevent sticking. In a seperate bowl, combine: eggs, yogurt, 3/4 cup of the sugar, 4 Tablespoons of the butter and the Neufchatel. Mix until thoroughly combined and smooth.
Heat 1 Tablespoon butter in a skillet. Add 2 Tablespoons of the sugar, the cinnamon and nutmeg. Add apples, and toss to coat. Stir occasionally until the apples are tender and caramelized (about 10 minutes.) Add apples to the egg mixture. Pour over the noodles and gently toss until thoroughly combined. Spread into buttered baking dish. Drizzle remaining butter over noodles. Sprinkle with remaining sugar (and a little more cinnamon and nutmeg to make it pretty.)
Bake for 30-40 minutes, or until top is a light golden color and the kugel is set. Allow to cool 15 minutes before cutting into squares and serving.
Enjoy!
~Melissa
You may enjoy these related posts: